Bitcoin mining difficulty falls to levels seen last year. Is this profitable for miners?
Bitcoin mining difficulty has noted its most significant drop since July 2021. On Friday, it stooped lower by approximately 5%, easing the competition among miners for rewards. The last time difficulty dropped by around the same percentage was mid-July last year. At press time, at a block height of 745,920, the metric's reading stood at 27.69 trillion – a level last seen in mid-March this year.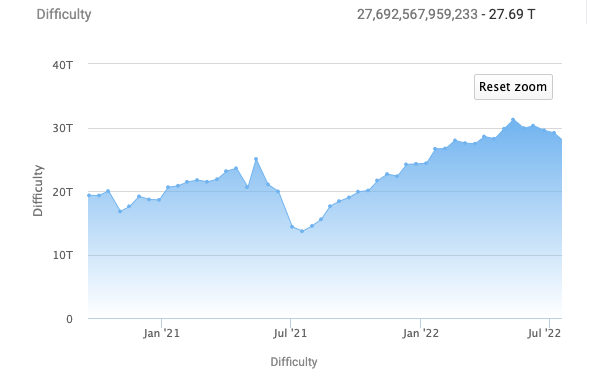 Even though the dip indicates that the Bitcoin network's security is currently being compromised, it translates to higher profitability for miners. Data from BitInfoCharts affirmed the same. As illustrated below, Bitcoin's profitability now stands at a monthly high of 0.107.


Bitcoin liquidations continue to mount
Despite noting a rise in profits, miners have been parting ways with their HODLings. Per data from the on-chain analysis platform ByteTree, miners have been spending [selling] more Bitcoin than the amount generated. Over the past week, the net number stood in red and reflected a reading of 292 BTC.


In fact, per data from CryptoQuant, the cumulative miner reserve noted one of its sharpest falls last week, bringing to light the prolongation of the liquidation trend that took concrete shape in June.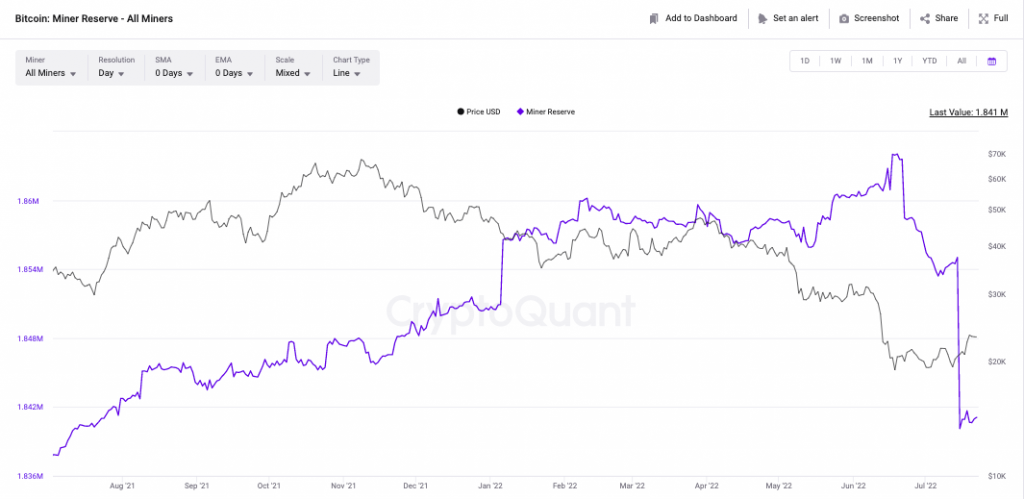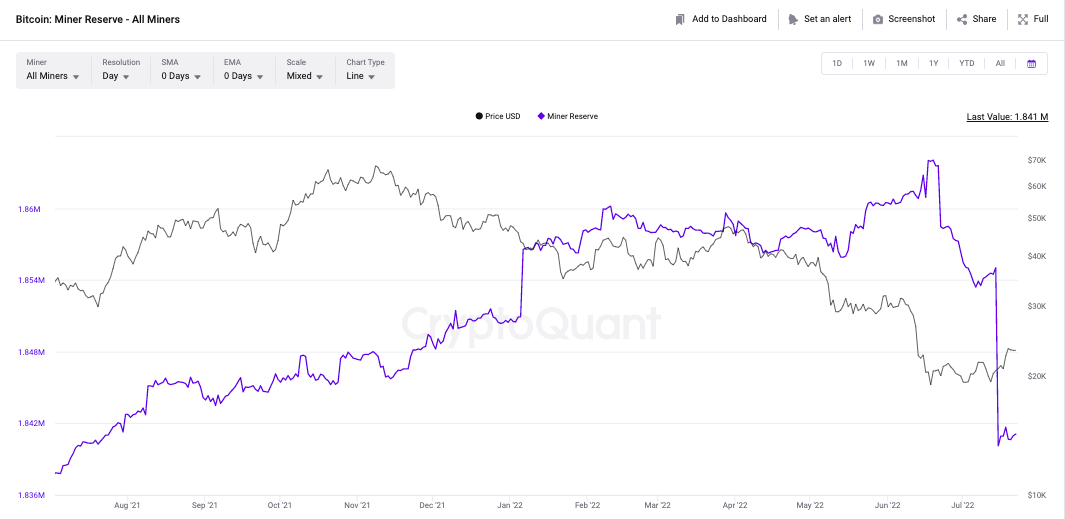 Retrospectively, mining companies have found it challenging to tread through this phase. Compass Mining, for instance, cut down 15% of its employees and initiated salary decrements for its top executives a couple of weeks back to wade through the ongoing difficult market conditions.
Dip in distress?
However, the firm has now revealed expansion plans via a 75 MW hosting partnership with Compute North for its data center in Granbury, Texas. The firm also intends to deploy 25,000 application-specific integrated circuit (ASIC) miners to the existing mining site in Granbury.
Alongside, the miner's distress seems to have started cooling down. Over the past 24 hours, the spending has substantially reduced, with the net supply standing at a positive 142 BTC. Alongside, miner reserve has also initiated a trend change and noted a minor incline from 1.840 million BTC to 1.841 million BTC over the last couple of days.