Shiba Inu Whales had a 578% net-flow drop: Is it a Red-Flag?
The crypto market has been trading in green over the past day. The collective rally registered by most top coins aided in dragging the aggregate market cap above the $1 trillion mark. While Bitcoin registered a single-digit daily gain, altcoins led by Ethereum noted double-digit gains. Shiba Inu, nonetheless, opted to tread on the first path and noted a 5.5% uptick in the said time period.
Are Shiba Inu Large HODLers' flows fluctuating?
SHIB's price has evidently been bi-directional over the past few weeks. Despite the daily rise noted, there was a minor pull pack of 0.54% noted on the hourly. There were similar green-red combinations on the weekly and monthly too.
Price fluctuations like these usually tend to garner a lot of whale traction. Such participants usually buy SHIB tokens in large quantities whenever prices drop, and when green numbers start flashing, they gradually start selling and relishing gains.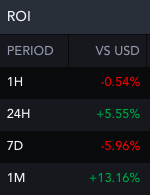 SHIB's price has, notably, risen by 13% over the past month. In the same period, nonetheless, large HODLers netflow has dipped by 578%. Conversely, on the weekly window, with the 6% price dip, the netflows have noted a 73% incline.
However, when the chart below is keenly observed, it can be noted that a massive drops, like that of the 578% one, have not necessarily triggered the flows to fall into the negative territory. They've mostly been treading on the border-line, indicating that no collective dumping has materialized in the recent days.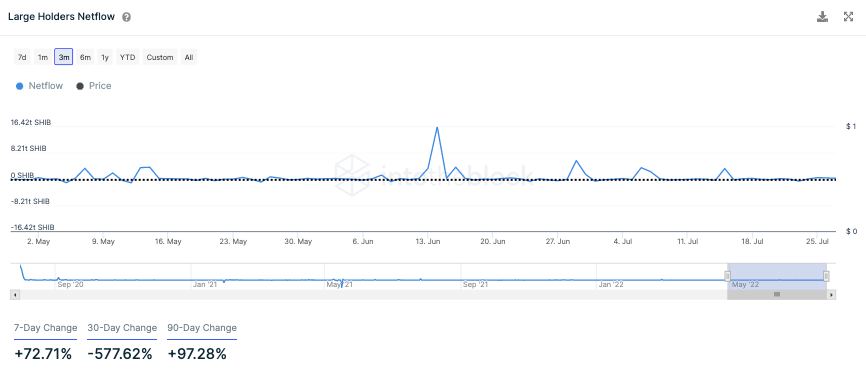 At press time, the large HODLers' netflow depicted a positive value of 272.86 billion SHIB tokens, implying that the whale-purchase spree is still on. In fact, as reported yesterday, ETH whales had quite recently purchased a whooping half-a-trillion SHIB tokens in a span of merely a day, justifying the said narrative.
Read More: ETH Whales Purchase 'Half A Trillion' Shiba Inu Tokens in 24 Hours
So, with large HODLers/whales seemingly not in the mood to empty their bags, SHIB would likely be able to hold onto its current price for a while. Its directional bias, however, will continue to remain closely-knit to that of Bitcoin's, for the two cryptos share a 30-day high correlation of 93%. So a change in trend in the broader market would invalidate the afore-discussed thesis.