Crypto lawyer involved in Ava Labs saga exits Binance, Tron, Bitfinex lawsuits
The crypto industry has witnessed many things unraveling over the last couple of months. The bears weren't making it any easier, from failed projects to missing CEOs. Amidst all this, crypto attorney Kyle Roche of Roche Freedman LLP veered into the spotlight after several videos of him meeting with his clients over drinks surfaced. While this seems like a typical encounter, the fact that he allegedly discussed his relationship with crypto clients caused trouble. It was even noted how his firm had partnered with Ava Labs to take down other firms.
Earlier this week, Roche took to Twitter and denied all claims. He went on to suggest that the recordings brought to light by Cryptoleaks were "highly edited and illegally obtained." Following this, the crypto attorney withdrew from several class action suits against various crypto firms.
According to reports, Roche filed motions to withdraw as the counsel for several class action suits in the Southern District of New York. This included Tether, Bitfinex, Tron Foundation, HDR Global Trading, and Binance. In addition, the motion pointed out that the crypto lawyer was "no longer involved" in the law firm's class action practice.
The community further questioned Roche's move as he had previously denied all allegations against him. He even backed Ava Labs by suggesting that the firm would never make such a request in the first place.
Here's how Ava Labs' AVAX token has been faring
While the entire crypto-verse has been on a downtrend, AVAX took a bigger hit following this news. The Ava Labs' token witnessed a steep fall over the last few days.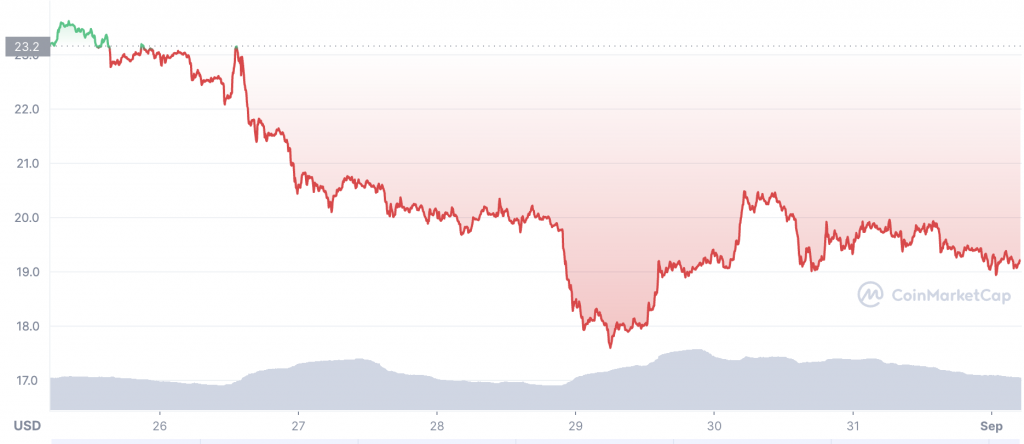 The altcoin plummeted to a low of $17.56 earlier this week. However, at press time, AVAX was trading for $19.19, with a 2.84 percent drop over the last 24 hours. It should be noted that the altcoin witnessed a 17 percent drop over the week.