Dogecoin: Looking beyond DOGE's 14% price pump
Alongside Bitcoin and Ethereum, most other coins from the crypto space rallied during the weekend. Several flippenings—like the Avalanche and Shiba Inu one—took place, and tokens like Cardano's ADA created local highs on the market cap front. The market's most significant meme token, Dogecoin, followed the broader trend.
Dogecoin network: A temperature check
At press time, DOGE was up by 14% on the weekly. Parallel to the price rise, improvements on several other fronts have also been noted. For instance, the total fee collected by Dogecoin has reported a 16.6% incline over the past week.
Per data from ITB, the fee collected over the past day reflected a value of 31.03k DOGE. As illustrated below, the same is higher than what was noted on 7-8 August [22k-26k DOGE]. Thus, it can be contended that Dogecoin has reported an influx of participants using its blockchain of late.

Dogecoin's NVT continues to hover around above-average levels. A higher NVT usually means the network activity can outpace the transferred value. At press time, the reading of this metric stood at 270, up from 11 August's 92. As illustrated below, when the NVT revolved around similar levels in the April-May period, DOGE's price went on to create local highs.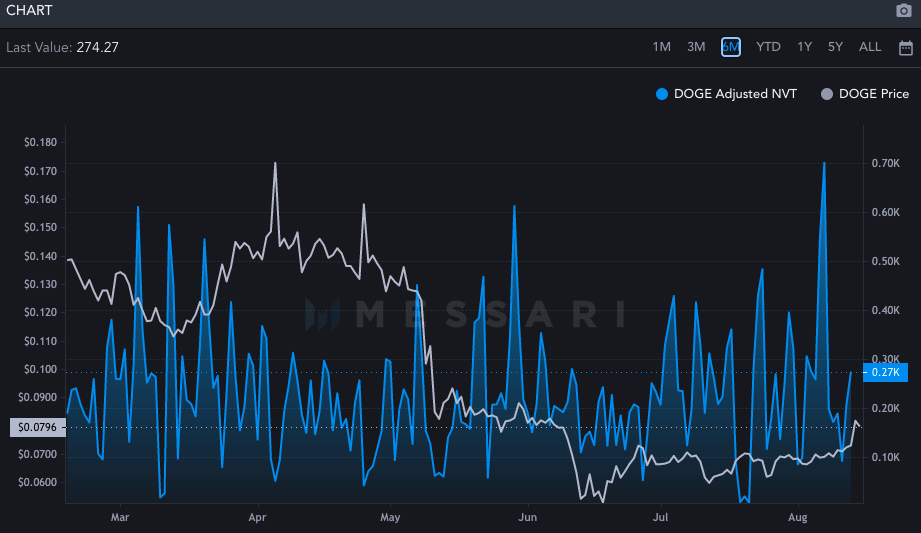 The cherry on the cake
Dogecoin, as a project, has always been perceived to be abandoned by developers. Alongside network positives, it has been making strides on the development front, making it the cherry on its cake.
Per data from ITB, the number of Github commits, stars, and open issues have been rising. As such, commits refer to the changes made to the code of the ecosystem by developers, while stars and issues gauge the interest and engagement shown by the community. The slow yet steady inclination on the macro front points to the fact that the developers have been trying to refine the ecosystem.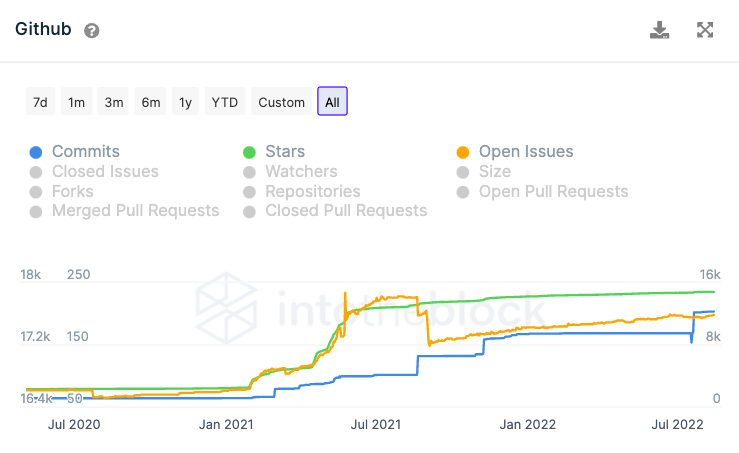 There have been tangible outcomes of the same. As reported last week, the Dogecoin foundation revealed a new update, Libdogecoin. The same enables lightweight direct integration of Dogecoin into a variety of platforms. With the update, users without the technical and nuanced knowledge of crypto protocols can easily create a Dogecoin-compliant product.
Read More: Dogecoin Reveals Libdogecoin Update
Libdogecoin is currently being tested on iOS devices. Dogecoin Foundation's director, Timothy Stebbing, opines that the same "demonstrates the power of libdogecoin to bring Dogecoin developments to new realms."
So, alongside the price rise, the network and development activity improvements are other positive takeaways for Dogecoin.