Nvidia ordered to halt AI chip sales to China, Russia
The U.S. government has imposed export restrictions on certain chip sales. On Wednesday, American multinational technology company Nvidia revealed that officials have asked it to stop exporting two top computing chips for AI work to China.
Per Reuters,
Nvidia said U.S. officials told it the new rule "will address the risk that the covered products may be used in, or diverted to, a 'military end use' or 'military end user' in China."
Alongside China, the sale restriction order also applies to Russia. However, it is worth noting that Nvidia has many customers in China, but does not currently sell to Russia.
The share price of NVDA has been dropping since 26 August. As expected, the latest announcement pushed the price even lower. During Wednesday's close, the shares were trading at a one-and-a-half month low of $95—a level last seen in mid-July. Furthermore, during the afterhours, Nvidia shares fell 6.6%.
Here it is worth recalling that towards the end of July, when the House was eying the chip bill, U.S. House Speaker Nancy Pelosi's husband dumped Nvidia stock. The multibillion-dollar bill, per se, aimed in part at boosting U.S. chip manufacturing. The same sent the shares of NVDA surging.
Per Nancy Pelosi's regulatory filing, her husband—Paul Pelosi—sold 25,000 shares of Nvidia at $165.05 on Tuesday, worth $4.1 million. Notably, Pelosi had lost $341,365 in the transaction, according to the filing.
In fact, Forbes revealed,
"Pelosi missed out on a sizable payday, as Nvidia shares have since jumped 7.8% to $177.90."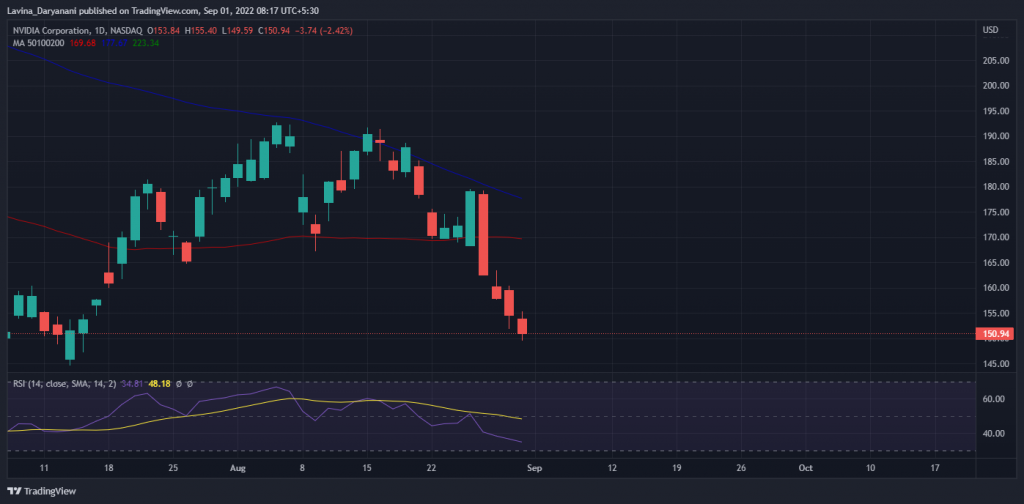 Nvidia competitor Advanced Micro Devices' shares also reacted to the latest order. It fell 3.7% in the after trade hours.
The said move could impede Chinese firms' ability to carry out advanced work like image recognition. Simultaneously, the order will also cramp Nvidia's business in China.
The company said the ban, which affects its A100 and H100 chips designed to speed up machine learning tasks, could interfere with completion of developing the H100, the flagship chip Nvidia announced this year.
Without reveling details, the U.S. Department of Commerce said that it was reviewing its China-related policies and practices to "keep advanced technologies out of the wrong hands."
A spokesperson told Reuters,
"While we are not in a position to outline specific policy changes at this time, we are taking a comprehensive approach to implement additional actions necessary related to technologies, end-uses, and end-users to protect U.S. national security and foreign policy interests."
Parellelly, an AMD spokesman told Reuters that the company had received new license requirements that will stop its MI250 artificial intelligence chips from being exported to China, nonetheless, it believes that its MI100 chips will not be affected. However,
AMD said it does not believe the new rules will have a material impact on its business.