Polygon to launch Web3 gaming platform
On Tuesday, the Polygon team unveiled its tie-up with South Korea-based video game development and online publishing giant Neowiz Corporation. Via the partnership, the two platforms are set to launch a blockchain-based gaming platform that will bring some of Neowiz's popular gaming IPs to Web3 for the first time.
Announcing the same, Polygon's recently published blog-post read,
"We're delighted to reveal that Polygon is teaming up with the massively popular Neowiz Corporation… Together, we will launch a brand new Web3 gaming platform, dubbed Intella X"

At launch, Intella X's lineup will include two social casino games, while a bunch of fan favorites from Neowiz is also lined up for release. With respect to future releases, Polygon revealed,
"Multiple new blockchain games from the popular IP are also anticipated to launch in 2023, alongside a new PFP NFT project…"
Polygon's new tie-up to aid users 'develop and earn'
The gaming platform, as such, is designed to distribute the shares of all generated revenue back to the contributors of the ecosystem, for Intella is using the "Develop and Earn" system.
Users can contribute and reap the fruits in return via multiple ways. For starters, they can begin by either staking or providing liquidity in the proprietary DEX and earn yields from Intella X's native IX Token.
Here it is essential to note that the proprietary wallet, "IX Wallet" will be launched alongside by the corporation. Built on top of Polygon's network, the wallet is optimized for game services, but can also interact with any other DeFi applications.
Furthermore, users can earn IX by playing individual games and swapping any unique game tokens offered for IX via the exchange. The blog revealed that the projects that build and release on Intella X will be compensated in IX Token.
Elaborating on how the rewards system works, Polygon noted,
"The algorithm considers both on-chain and off-chain data to determine the contribution rate for each developer's game. This allows developers to focus on what they do best without worrying about other factors to earn their shares of the monthly distributed rewards."
The gaming hype
Over the past few months, the gaming hype has somewhat fizzled out. However, since the beginning of June, things started improving.
One way to measure how robust the space remains is to examine how swiftly users have been executing gaming NFT centric transactions. Of late, as illustrated below, transactions in the said genre have started inclining, hinting that gamers have started getting back on-field.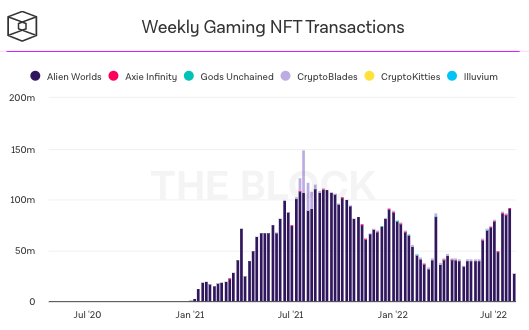 Working with gaming developers and publishers like Atari, Ubisoft, Animoca, Wildcard, and Tilting point has given Polygon time to settle in and gain a commanding position in the Web3 gaming space. And now, with the gaming hype being re-kindled, the latest partnership is likely to set and take Polygon's position in this space to the next level.