AISC Commissioner calls Crypto 'risky': 336m AUD lost in scams
The Australian Securities and Investments Commission had recently released its corporate plan for 2022-26, and notably, Bitcoin and other cryptos were one of its "core" focus areas. From supporting the development of a practical regulatory framework to taking enforcement action and supervising product disclosure statements, the commission seeks to cover a host of bases.
Read More – Australia: DeFi & Cryptos like Bitcoin on ASIC's 'core' focus area
Now, in what is the latest development, the AISC has urged Australians to understand how investing in crypto assets works, for it involves risk-taking. Talking at the Governance Institute conference on Monday, ASIC commissioner Sean Hughes said,
"We want to be very clear and unambiguous in our messages to consumers entering the market. We think that crypto assets are highly volatile, inherently risky and complex."
An ASIC research on investors' behavior found that almost half [44%] of the 1000 investor respondents held crypto assets. However, Hughes asserted in the conference that only 20% of them considered their behaviour risk-taking.
The regulator further added that the findings were similar to other countries, where an international study found "extreme levels of risk-taking by unfamiliar or unsophisticated investors" on crypto assets.
With respect to adoption numbers, the Canberra Times noted,
The Australian Taxation Office estimates more than one million taxpayers have dabbled in crypto assets since 2018.
Crypto crimes – A by-product of rising adoption?
Investment and crypto related crimes have been going on in full-spree in Australia. Until now in 2022, scammers have made over 336 million Australian dollars [231,383,178 USD] via all scams, per data from Scamwatch.


In the first seven months, a major chunk of funds lost to scams of all types were investment scams. The same encapsulates Ponzi schemes and crypto scams, among others.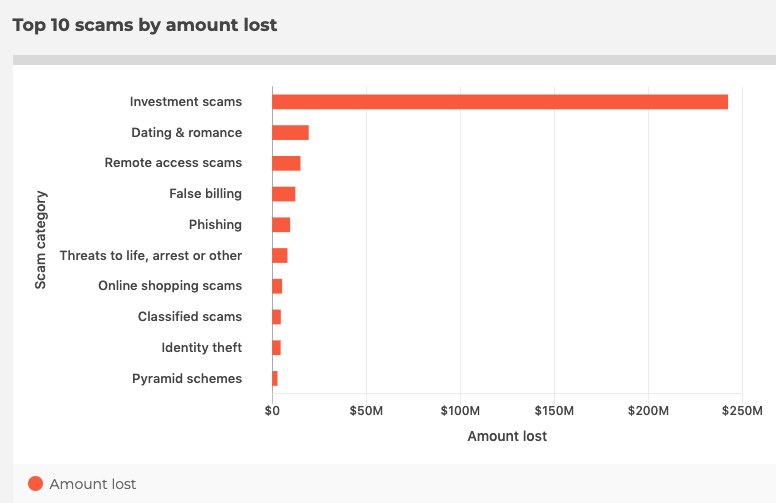 Here it is worth noting that regulators have been taking steps to shield investors. As reported last week, a new forensic unit in the Australian Federal Police (AFP) was launched to tackle money laundering.
Read More – Will Australia's mindful regulations allow Bitcoin to thrive?