Whales dump $100M worth Bitcoin: BTC struggles under $20k
A few hours back, a particular Bitcoin whale sent 5000.01 coins to Kraken. Per blockchain data, the wallet was created and coins were initially added by the whale back in 2013.
With Bitcoin currently trading at the brink of $19.9k—a level 0.5% higher when compared to yesterday—the sold coins' value approximately stood at $100 million at press time. Confirming the same, Chinese Crypto Journalist Colin Wu tweeted:
As far as the big-picture is concerned, market participants were buying the Bitcoin dip over the past few weeks. The same was authenticated by the diminishing exchange reserve balance. Now, anyhow, participants are collectively letting go of their HODLings.
Consider this: Per data from CryptoQuant, the exchange reserve reflected a value of 2.296 million BTC on 30 August. However, at press time on Monday, it stood at an elevated 2.316 million BTC, affirming the rising sell pressure narrative.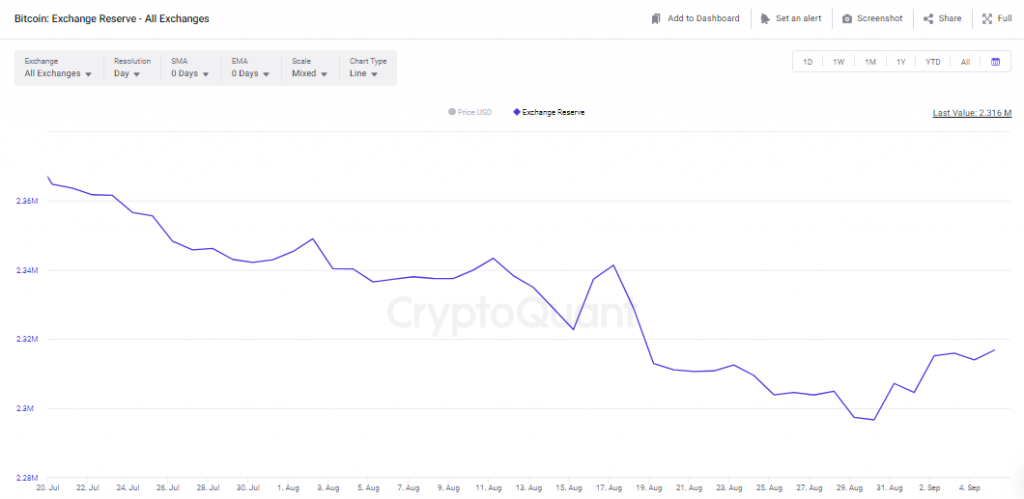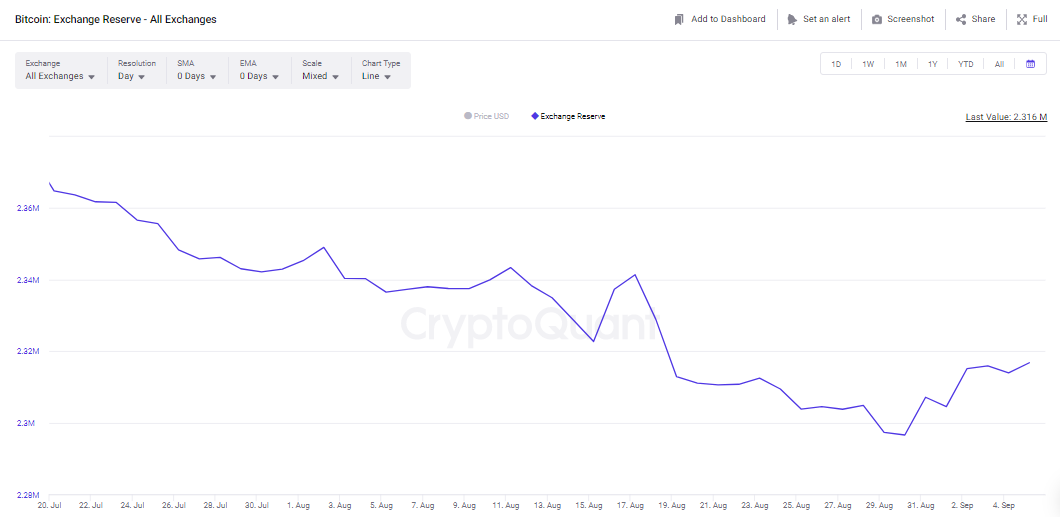 Bitcoin S2F at ATL, dominance drops alongside
Bitcoin's stock-to-flow deflection depicted another interesting trend alongside. As such, the deflection metric depicts the ratio between the current price of an asset and its stock-to-flow ratio to determine whether an asset is overvalued or undervalued with respect to its scarcity.
Conventionally, if deflection is greater than or equal to 1, it means that the asset is overvalued per the stock-to-flow model. On the other hand, if the deflection is less than 1, the asset is undervalued.
Per data from Glassnode, this metric currently stands at an all-time low of 0.188, indicating that the largest crypto asset is trading way below its fair price.
Furthermore, Bitcoin's dominance had been on the fall over the past few weeks. From 11 June's local high of 48.45%, Bitcoin's dominance has dropped to its historically low range. At press time, the same stood at 39.62%—a level last seen in during December-January, when the market stepped into its bearish phase.
However, it should be borne in mind that BTC dominance reverses lower, it doesn't necessarily mean that Bitcoin's price is falling. It only means that altcoins are adding value to their market cap at a faster pace. Chalking out why the current trend is in play, Collin Wu tweeted,
"The recent decline in BTC.D may be related to the rise of ETH driven by the merge."