Binance x CoinMarketCap: First Index product to debut in November
The crypto-verse has witnessed the rise of prominent crypto exchange Binance. With a plethora of partnerships, the firm has been dominating the crypto space. Now, in an attempt to elevate its association with crypto price tracker CoinMarketCap [CMC], the firm has rolled out the Binance CoinMarketCap [CMC] Index Series.
According to a recent announcement, the exchange is expected to launch its very first index product part of the aforementioned series. It is reportedly called the "Top 10 Equal-Weighted Index." This product will track the performance of the coveted top 10 crypto assets.
Binance noted that this would be made available for investors next month that is November 2022. Users will be able to employ this service through the exchange's Auto-Invest feature.
The Equal-Weighted Index, which is intended to assist investors in assessing price and performance, would reportedly be recalibrated weekly. Additionally, it should be noted that the bear market has not stopped platforms from pursuing new products.
Binance's Index product series roadmap is out now
The exchange's Index product series roadmap is quite simple. Binance has currently rolled out the Top 10 Equal-Weighted Index and ticked off the very first box on the list. At present, users will be allowed to track the performance of these assets.
The second on the list included its Auto-Invest feature which is expected to go live in November. The third on the roadmap will debut in 2023 with a wide range of indices.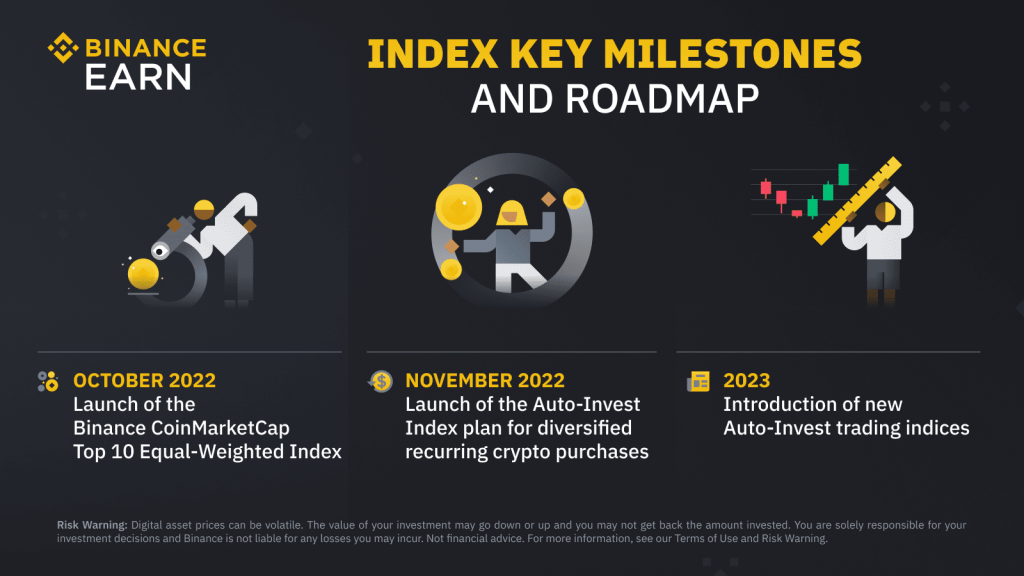 As mentioned earlier, Binance's partnership with CoinMarketCap goes way back. The exchange acquired CMC back in April 2020. Speaking about the collaboration the firm's CEO CZ had previously said,
"Our common vision will be strengthened by this acquisition to further growth and instill transparency in the industry. This will enable us to build on each other's strengths, jointly serving as infrastructure providers of crypto."
The latest partnership is likely a reflection of Binance's initial goal.