Bitcoin: Tesla's BTC holding after selling 75% remains..
Tesla and its CEO Elon Musk have had a love-hate relationship with Bitcoin [BTC]. Musk created quite the buzz after dropping support for the king coin and reducing Tesla's BTC holdings over the last couple of months. Despite this, the electric car manufacturer continues to hold $218 million worth of Bitcoin.
Just yesterday, Tesla released its Q3 earnings report and noted how the firm did not add or sold its Bitcoin holdings since the last quarter. It should be noted that the firm sold 75 percent of its Bitcoin holdings back in June. This was roughly $936 million worth of BTC and afterward, the firm was left with $222 million in BTC by the end of June.
Back in February 2021, Tesla declared that it entailed $1.5 billion invested in Bitcoin. However, as mentioned earlier, the firm got rid of nearly $950 million worth of BTC. Elaborating on the reason behind this sale, Musk stated during the Q2 investor call,
"It was important for us to maximize our cash position, given the uncertainty of COVID lockdowns in China."
Ever since the firm did not seem to have made any more investments in crypto. Additionally, it should be noted that despite selling a significant amount of BTC, Tesla continued to remain one of the largest holders of the asset.
Bitcoin struggles to move beyond $20K
The world's largest cryptocurrency seemed to be stuck at $19K for quite some time now. While predictions about the asset hitting $21K continue to roll in, BTC seemed to be comfortable at its current levels.
During press time, the king coin was trading for $19,179.30 with no major price changes over the last couple of hours. Earlier today, BTC witnessed quite a drop from a high of $19,299.34 to a low of $18,971.46.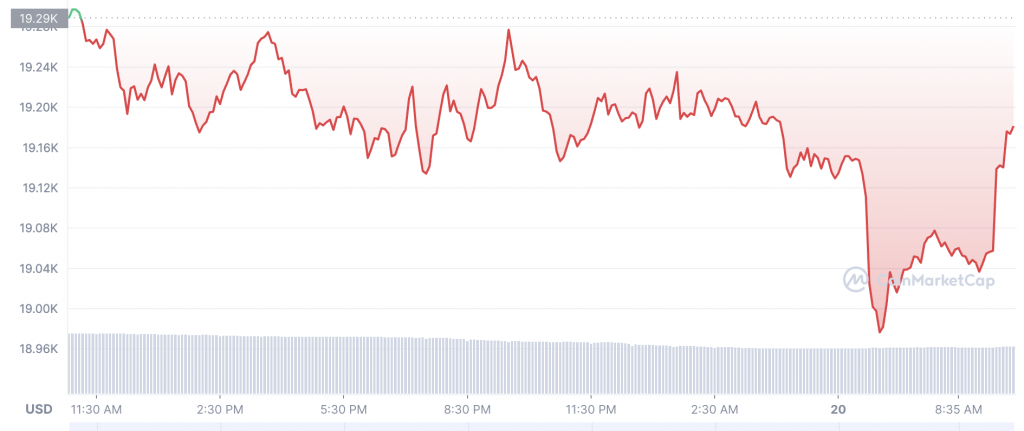 With Bitcoin trading at such low levels, prominent entities have been bagging the asset. Tesla, however, seemed to be untethered by Bitcoin's discounted price.