Can Dogecoin Rise to $0.1 With Elon's Blessings?
Dogecoin lost its relevance in the market over the past few weeks, but it started gaining traction recently. Consequentially, it managed to secure the third-highest social engagement last week.
The same trend is occurring, and DOGE was yet again trending on platforms like Twitter at press time.

On the price front, the largest meme coin was one of the loftiest gainers on Wednesday. Standing at #2, DOGE noted an inclination of 20.58%. In comparison with #1 KLAY, Dogecoin was lagging by a mere 0.21%.

On the charts, the asset was trading at levels seen 10 weeks ago in August. It had already surpassed the 50 MA and 100 MA [red, blue] on the daily. However, it was trading slightly below its 200 MA [green], even though it had broken above the same rate earlier during the day.
Given such a massive spike in such a short span of time, a retracement can be expected. In fact, the overbought reading of the RSI supported the said narrative.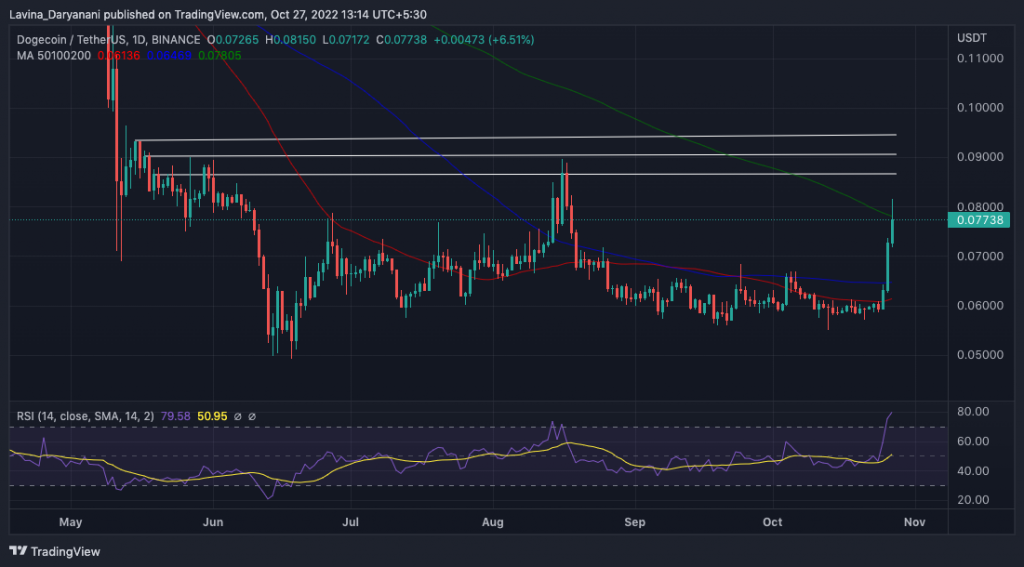 It shouldn't be forgotten that the current Dogecoin rally is likely Musk-induced. A day back, the executive changed his Twitter bio to "Chief Twit", and he changed his location to "Twitter Headquarters." Included in the tweet, he also posted a video of himself entering the headquarters and exclaiming, "Let that sink in!"
Musk's Twitter acquisition deal is likely to be wrapped up on Friday. When that happens, there could be high odds of the asset defying technical analysis and continuing its rise in hopes of a tipping jar. In such an event, there's room for Dogecoin to glide up to $0.094, provided it clears the hurdles chalked out midway.
Dogecoin's Fundamental landscape
Fundamentally, the price rise has been backed by whales and retail participants. Revealing the same, Santiment's latest tweet noted,
"Both DOGE whale transactions & trading volume spiked to August levels."
The former metric [transactions >1000k+] stood at a multi-week record high of 462, while the value of the latter stood north of 1.18 billion tokens.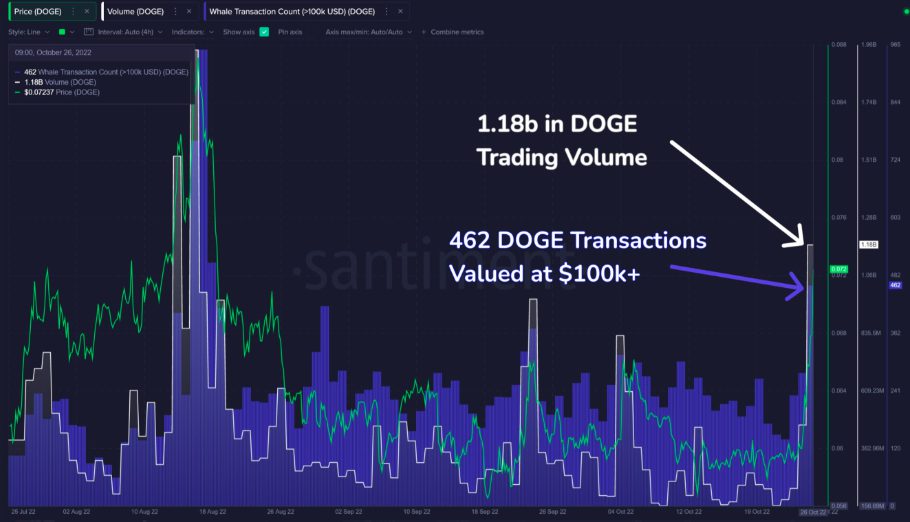 On the on-chain front, Dogecoin was the sixth-most active chain at press time. With the assistance of over 61k addresses that were active over the past 24 hours, the protocol managed to earn more in fees compared to Litecoin and XRP.

Post the brief retracement, the largest meme coin can be expected to organically bounce back on Friday when the deal is sealed, given the improving fundamentals.
Also Read: Why did Shiba Inu miss out on this Cryptos' list?