Elon Musk Twitter's new CEO? Lifetime suspension reversal on the cards
Just as Elon Musk's $44 billion Twitter acquisition deal came through CEO Parag Agrawal along with a few other execs were asked to leave. Amidst this, speculations about the next Twitter CEO began pouring in. Banking on the same, a plethora of tweets of individuals claiming to be the next CEO of the social media platform surfaced.
Will the real CEO please stand up? Just as FUD took over Twitter, it was brought to light that Elon Musk himself intended to become the CEO of the social media giant. Bloomberg reported that after heading Tesla Inc. as well as SpaceX, Musk was all set to emerge as the CEO of Twitter as well.
The billionaire is anticipated to continue serving as CEO in the short term but may eventually relinquish the position in the long run. As mentioned earlier, CEO Parag Agrawal along with CFO Ned Segal and Vijaya Gadde head of legal and policy were sacked today.
In addition to this, it was noted that Musk intended to reverse all lifetime suspensions on Twitter users.
Will Kanye West and Donald Trump manage to veer into Twitter again?
Elon Musk aims to uphold freedom of speech through his recent takeover. In alignment with this principle, Musk reportedly revealed that he plans to reverse lifetime suspensions. He previously stated that he would bring back former President Donald Trump into the social media platform.
With Musk reversing lifetime suspensions, the community speculated that in addition to Trump, rapper Kanye West's Twitter account could be reinstated. West was recently banned from Twitter for his anti-Semitic posts. An array of prominent brands like Adidas as well as Balenciaga decided to cut ties with the rapper.
While this was a mere comment and no action was taken with regard to it yet, fake statements of Trump congratulating Musk on his purchase began surfacing.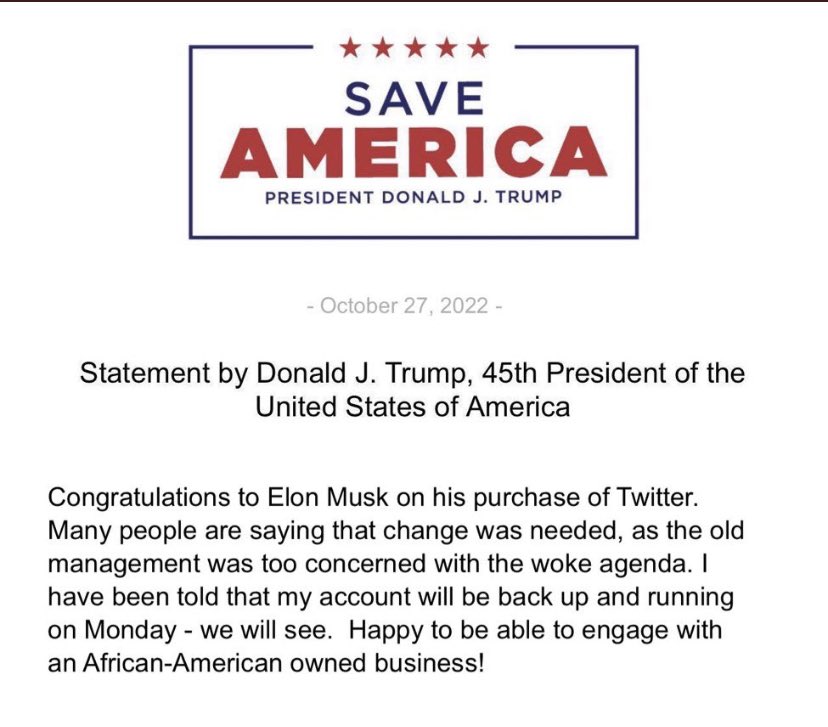 As mentioned earlier, this statement was found to be fake.