LUNC rises as Binance follows burn initiative
Following the dramatic downfall of Terra and its assets LUNC and USTC along with the departure of Do Kwon, the project has emerged as a community-driven entity. Now, prominent crypto exchange Binance seemed to be aiding the project's resurrection. Last week, the platform announced a burn mechanism to burn all trading fees on LUNC spot and margin pairs.
The exchange concluded its very first collection of trading fees on the aforementioned pair for burning over the weekend. While Binance is yet to roll out details about the burn, here's how many tokens the project had managed to eliminate.
As per LUNC Burner, the total number of assets burned was 7,738,653,984.472. While the number is in billion, it accounted for a dainty 0.112168% of LUNC's total supply. Out of this, 48,107,495 tokens were burned by tax.
In addition to this, it should be noted that about 300 million LUNC are burned every day. This, however, is not limited to one entity. While Binance is yet to release its data surrounding the same, the community speculates that the number would be high considering the surge in the asset's trading volume.
At press time, the daily trading volume of LUNC was at $1,023,706,007.44 following a 61 percent rise. It should be noted that the token managed to surpass prominent assets like Ethereum [ETH] on Binance in terms of daily volume.
As seen in the above image, LUNC took over the second spot right after Bitcoin in terms of daily volume.
LUNC pockets massive weekly gains
Most assets in the market garnered minimal gains over the last couple of days. However, LUNC surged by over 70 percent in the previous seven days. At press time, the assets witnessed a 1.91 percent daily drop while it was priced at $0.0003318.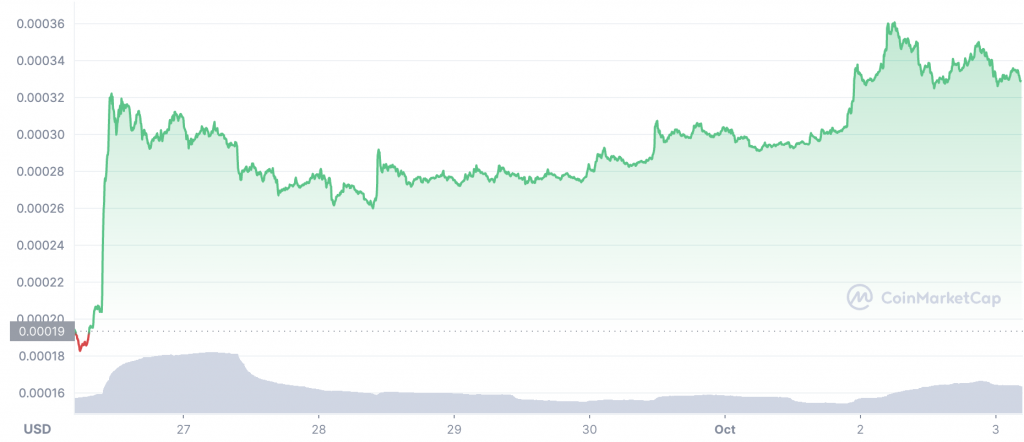 While the latest surge in the asset's price is certainly significant for the network, the asset is still 100 percent below its all-time high of $119.18. On the positive side, LUNC was up by 1864 percent from its May low of $0.00001675. Both, the asset's price as well as popularity is likely to spruce up due to Binance's burn initiative.