October Wrap-Up: How much did the top Cryptos fetch investors?
When October started, market participants' interest seemed to be renewed. The new month and the new quarter brought along with it hopes of a recovery. With October on the verge of now bidding adieu, let's analyze whether the crypto market lived upto expectations or not.
The total crypto market valuation was comfortably above the psychological $1 trillion mark back in the second week of September. Since then, it has only been hovering below it. As illustrated below, attempts to re-test the said level were made over the last couple of days, but the valuation was rejected around $970 million itself by the 100 MA.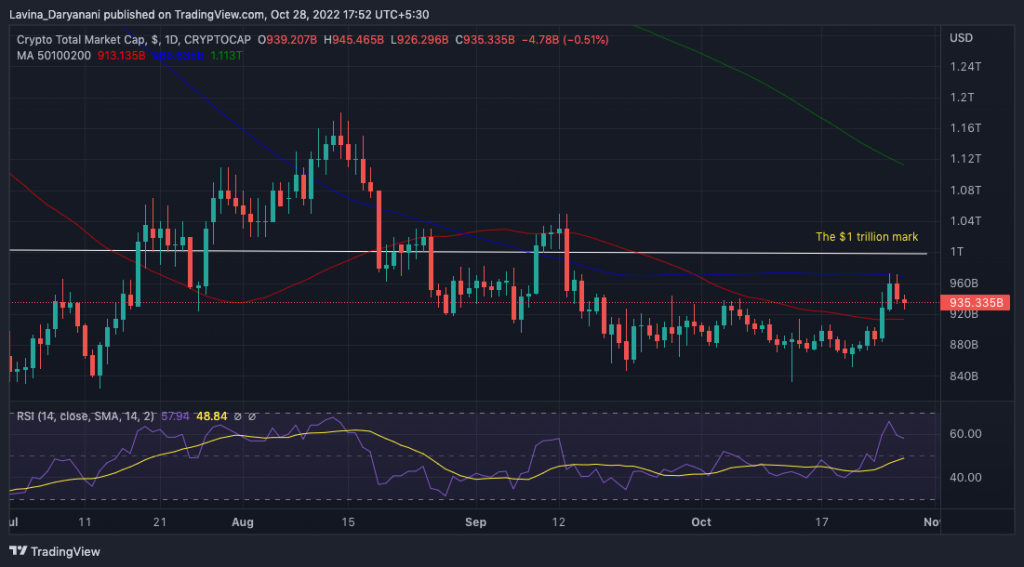 Likewise, even the top two cryptos failed to put up an impressive show.
Bitcoin
In the first week of October, Bitcoin traded above the psychological $20k mark. However, without enough bullish momentum, the price went on to drop to a level as low as $18.1k mid-month.
However now, seems like we're back to square one. Owing to the recovery noted over the past two days, Bitcoin has been able to stay afloat. Nonetheless, there are odds of the asset re-visiting $19k if bulls do not step into the picture.
Nonetheless, here's how much investors have earned so far in October:
1 October Open Price: $19422.6
Press Time Price: $20244.19
Investors' paper RoI: 4.23%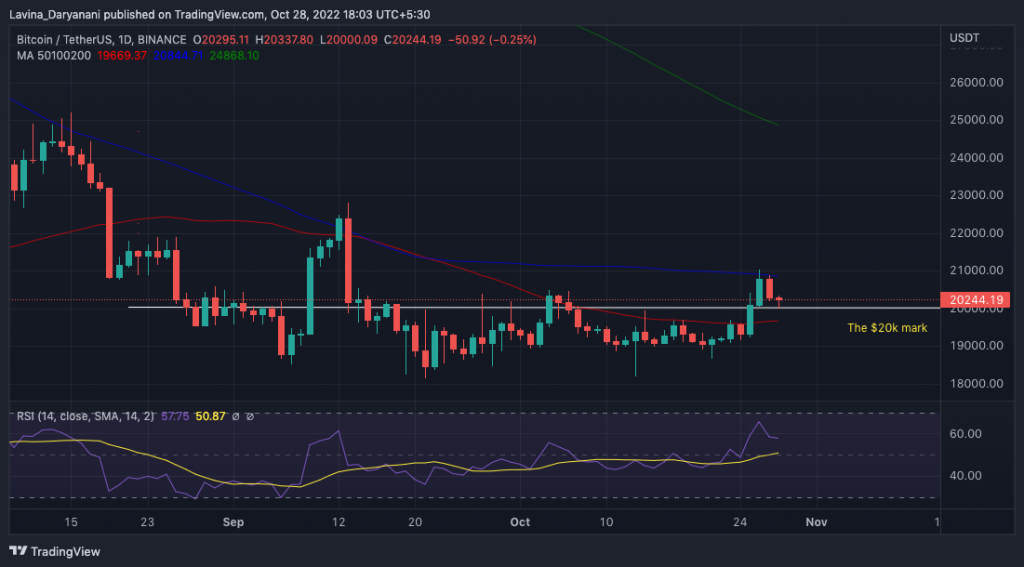 Also Read: Will the 'Short Squeeze' guide Bitcoin to higher highs?
Ethereum
For the most part of this month, Ethereum also struggled to incline on the charts. The series of green candles registered since 21 October, however, managed to push the asset's price above $1.5k—a level where the asset previously traded back in early and mid-September.
Over the weekend, if buying pressure manages to pick up steam, then the asset can be expected to head toward its 200 MA [green]. However, if bears play spoilsport or if Bitcoin declines, then a downtrend would propel the largest altcoin towards its 100 MA [red].
Nonetheless, here's how much investors have earned so far in October:
1 October Open Price: $1328.7
Press Time Price: $1512.7
Investors' Paper RoI: 13.84%