Polygon partners NuBank: Reddit Users create 3M wallets
The use cases of Polygon have been on the rise. For instance, last week it was announced that the said blockchain was being used by police in an Indian state to fight against local corruption and crime.
In fact, there have been a couple of more recent developments associated with the adoption of Polygon as well. A day back, Brazilian Fintech Bank Nubank announced the creation of the Nucoin token on the Polygon blockchain. The same has paved the path for a rewards program for the bank's 70 million clients across Latin America.
Commenting on the said development, Sandeep Nailwal, co-founder of Polygon said in a statement,
"One of the largest digital banking institutions in the world, offering its own cryptocurrency is a strong testament to the utility blockchain and crypto have to offer."
Fernando Czapski—General Manager, Nucoin—said,
"This project is another step ahead in our belief in the transformative potential of blockchain technology and to democratize it even more, going beyond the purchase, sale, and maintenance of cryptocurrencies in the Nu app."
There's another exhibit also. Before proceeding, it is worth recalling that in July, Reddit launched its NFT marketplace, built around Polygon's blockchain because of its low-cost transactions and sustainability commitment. And now, per the latest revelation, Reddit users have created around 3 million crypto wallets to buy Polygon NFTs.
State of the Polygon Network
Despite the rising adoption, it should be noted that the number of daily transactions carried out on the Polygon PoS chain has stagnated in the 2 to 4 million bracket for almost a year now.
In fact, over the past few weeks, the number has been leaning more towards the floor of the said range. The same is evidently quite low when compared to the 9 million highs created last year.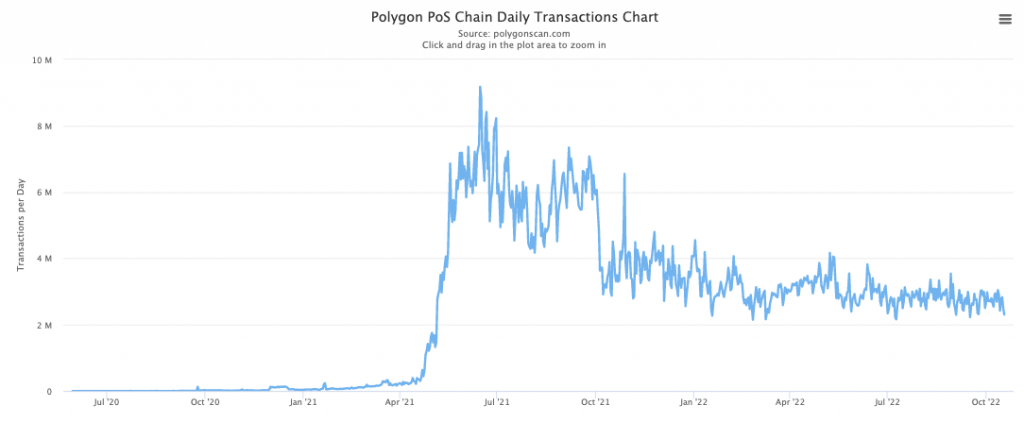 Now, even though this might seem to be a not-so-optimistic development, it shouldn't be forgotten that the network activity of most top blockchains has been lackluster over the past few months. So, despite being in a bearish environment, Polygon has been able to live upto the standards it set for itself by not allowing the reading of the said metric to drop below the 2 million threshold.
In fact, on the active address front, Polygon recently created a new record. And as analyzed in a recent article, the said blockchain has been able to put up a better show when compared to the likes of Avalanche, Solana, and Near, making it another positive takeaway.