Shiba Inu: Can SHIB Reach $0.001 in 1 year?
Shiba Inu (SHIB) is one of those crypto tokens that has a lot of hope riding on it. Just like Dogecoin (DOGE) did back in the day, a lot of young investors are hooked on SHIB going to "the moon." Now, SHIB already, kind of, went to the moon. The token had the highest returns in 2021. If one were to purchase SHIB in November of 2020, that person would be sitting on gains of up to 18719494.1%. Nonetheless, fans of the canine-themed project are eagerly waiting for the crypto to skyrocket once again.
From some perspective, S&P 500 has soared 30,209%, including dividends paid, throughout the course of 57 years from 1965 to 2021. Meanwhile, Shibu Inu tokens had an annual return that was more than 1,500 times greater than the 57-year return of the S&P 500.
Although the larger aim of the community is to get SHIB to the $1 mark, the first goal is for SHIB to lose a couple of zeros. Many are aiming for the $0.001 mark. And some are hopeful that this can be achieved by 2024.
What is needed for Shiba Inu to reach $0.001?
One of the most anticipated launches from the SHIB team is the release of its Layer-2 network, Shibarium. Additionally, the launch can act as a catalyst for SHIB's price. It will reduce transaction costs, and greatly increase speed. Moreover, Shibarium will make way for the non-fungible token (NFT)-based gaming and NFT marketplace transactions. Shibarium was expected to roll out by Q3, but the launch has been pushed back to an undisclosed date.
The next catalyst is the massive burning of Shiba Inu tokens. The Shibburn portal is moving full steam ahead with its burn mechanism. However, the burns have not had the necessary impact one would want. This is mostly because the tokens burned are vastly smaller in number than the circulating supply of ~497 trillion SHIB.
At press time, the burn rate had spiked by 250.47%.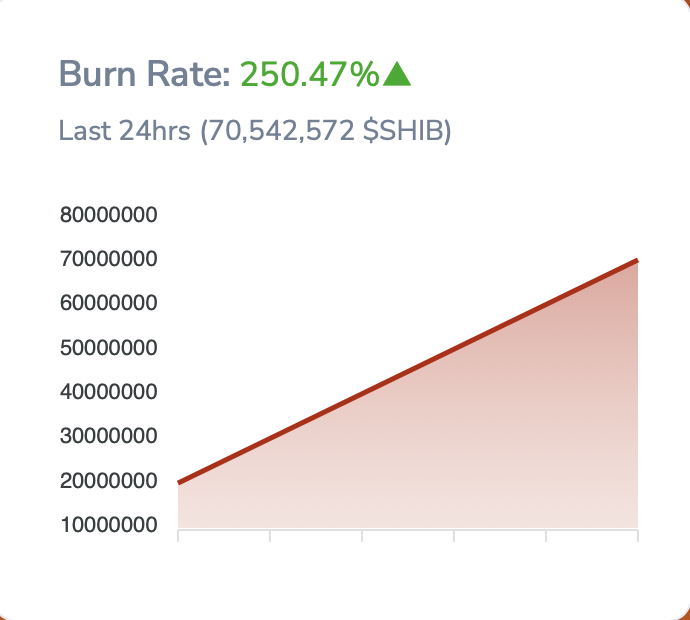 Lastly, Shiba Inu is heavily dependent on social media buzz. Although the project has released many use cases (eg. gaming, metaverse) it is still considered by many as a "memecoin." Thus, social media hype and mentions add to the token's momentum. For SHIB to drop two additional zeros, it would need a big social media movement.
The SHIB team did however release its collectible card game, which was quite a success. Although one section of the community was not impressed. Nonetheless, the launch did not have much of an impact on SHIB's price. But that is mostly due to a larger bear market, and increasing interest rates due to rising inflation. If a similar launch would take place during a bull run, the price movements might have been a lot different.