Solana: Mango Markets exploited for $100M post price data manipulation
The Solana [SOL] network has been victim to a number of hacks and exploits over the last couple of months. Yesterday, a scam regarding its Phantom Wallet was making the rounds. Just as the SOL community was learning about the Phantom Wallet scam, the network's DeFi platform Mango Markets was exploited for a whopping $100 million.
Solana's Mango Markets allows users to trade cryptocurrencies on the Solana blockchain for spot margin and trading perpetual futures. In addition to this, it is governed by the Mango DAO.
It was brought to light that an attacker managed to drain the funds from the DeFi platform through price manipulation.
OtterSec, a blockchain auditing website, noted that the hacker boosted the value of the collateral temporarily. Following this, the hacker withdrew massive loans from the Mango Markets treasury.
The hacker reportedly funded account A with 5mm USDC collateral at around 6:19 PM ET. Joshua Lim, the Head of Derivatives at Genesis Global Trading further explained, that the attacker then offered 483 million units of MNGO perpetual contracts on the Mango Markets order book.
Following this, the attacker financed another account at 6:24 PM ET with 5 million USDC in collateral to purchase those 483 million MNGO perpetual contracts at $0.03 each.
The attacker began manipulating the Mango spot market price at 6:26 PM ET, pushing the price to $0.91 and the 483 million MNGO's worth to $423 million. A loan of $116 million was then obtained by the attacker, leaving Mango's treasury with a balance of -116.7 million and completely draining Mango's liquidity. USDC, MSOL, SOL, BTC, USDT, SRM, and MNGO were among the assets drained.
Here's how Mango Markets has been dealing with this $100M attack
As soon as the hack came to light, the network alerted the community on Twitter. The platform noted that it was examining the attack and was even trying to freeze the funds in flight. Detailing on further steps, Mango Markets tweeted,
In another tweet, while urging users to refrain from depositing into Mango, the platform encouraged the hacker to reach out to "discuss a bug bounty."
As expected the price of Mango Market's native asset MNGO witnessed a drastic drop. At press time, the asset was trading for $0.02454 with a 38.64 percent daily drop.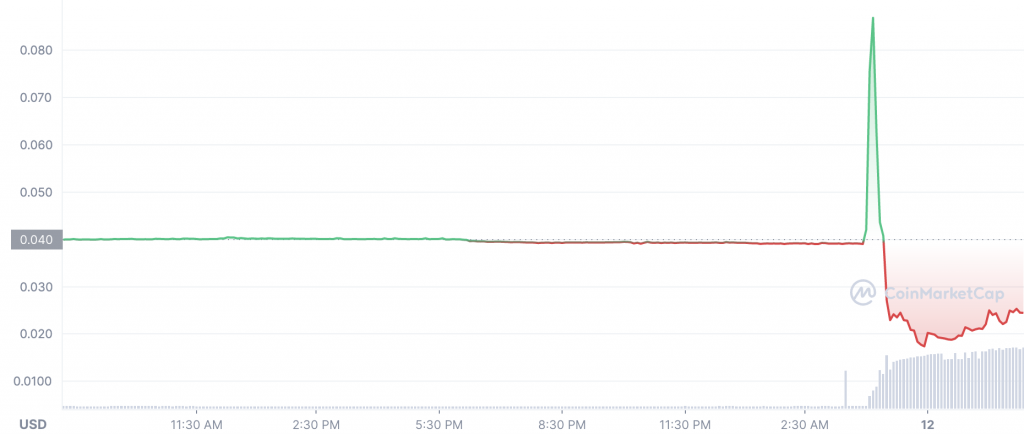 It should be noted that the asset's price rose to a high of $0.08986 before dropping down to a low of $0.0174.