El Salvador to start buying Bitcoin every day from tomorrow
The collapse of multiple projects and the market crash made investors dubious of pouring their funds into the crypto-verse. While speculations of Bitcoin being dead begun surfacing, a major Bitcoin bull did not lose hope. El Salvador shocked the entire globe by accommodating BTC as a legal tender. Despite the asset's plummet below $16K, El Salvador was looking to expand its holdings.
In a recent tweet, El Salvador's President Nayib Bukele announced that the government would start purchasing one BTC every day.
Bitcoin survived Covid-19 as well as the infamous de-pegging of TerraUSD. However, the FTX collapse caused havoc in the market pushing the king coin to a two-year low. 6.5 million Salvadorans, who trusted their President with pouring public finances into Bitcoin grew wary.
As per Ricardo Castaneda, an economist at the Central American Institute of Fiscal Studies [ICEFI], the estimated losses of El Salvador were around $70 million.
Despite this, Bukele remained untethered as he continued to "buy the dip." Time and again, the Salvadorian president was seen buying the Bitcoin dip. The downfall of the FTX empire did not make Bukele any less bullish about the king coin. Earlier this week, he even tweeted how FTX was nothing like Bitcoin.
Bitcoin through the FTX collapse
At press time, Bitcoin was trading for $16,573.57 with a 2.06 percent drop over the last 24 hours. While it managed to rise to a high of $17,650, earlier this week, it also plummeted to a low of $15,872.94.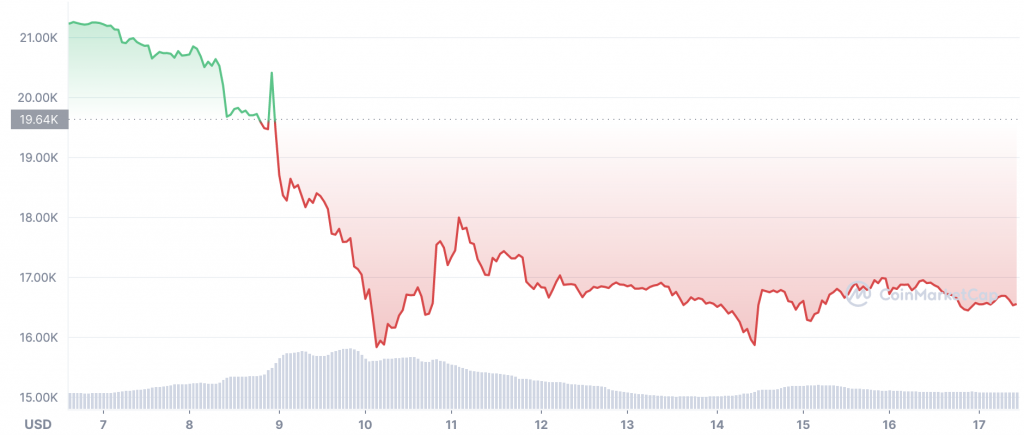 The above chart noted how Bitcoin plummeted over the last two weeks. Following the whole FTX debacle, BTC was trading 75.93 percent below its all-time high of $68,789 that it acquired a year ago.
With a purchase of one Bitcoin every day, El Salvador is likely to boost its holdings as well as BTC's price.