Shiba Inu Burn Rate Soars by 300% Even Amidst Market Turmoil
Shiba Inu's (SHIB) prominence does not seem to be eroding despite the persistent bear market. Without a doubt, the cryptocurrency market suffered greatly from the fall of the FTX empire. Nearly every cryptocurrency on the market was seen to lose value. In the midst of the chaos, popular cryptocurrencies like BTC and ETH also saw a decline in value.
However, one sector of the market is relieved as it slowly begins to recover. According to Whalestats, Shiba Inu gained 5000 new holders in just two days. There has also been a 92% increase in SHIB trading volume in the last 24 hours.
Even though SHIB lost 7% in the last 24 hours, the burn rate has soared over 300%.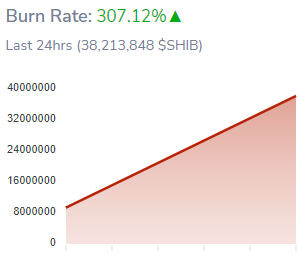 SHIB burn rate soars as price drops
Shiba Inu is currently trading at $0.000008349, a loss of 7% in value over the last 24 hours. Notably, the burn rate has increased slightly over the same time period. According to Shibburn, the SHIB burn rate is currently 307.12%.
During this time, 38,213,848 SHIB were sent to dead wallets. The majority of burns were caused by two large transactions involving 26.7 million and 11 million SHIB, respectively. This is comparatively higher than the burn rate that stood at 121% two days ago.
It was not just SHIB that enjoyed a spike in trading volume in the last 24 hours. DOGE also enjoyed a 72% increase in trading volume during the same period. The market has been slumping for numerous reasons. As the market tries to get back on its feet, it seems another disastrous event knocks it to the floor.