Shiba Inu Trading Volume Soars Over 92% as the Market Slumps
Despite the ongoing bear market, Shiba Inu's (SHIB) popularity does not appear to be declining. Undoubtedly, the collapse of the FTX empire wreaked havoc on the cryptocurrency market. The value of almost all cryptocurrencies on the market were seen to decline. Even Bitcoin [BTC] fell to a price of about $15,000.
However, the market that is showing slow signs of recovery offers one segment of relief. Over the last 24 hours, major cryptocurrencies have all been trading in single-digit losses. SHIB added 5000 new holders in just two days, according to Whalestats. The total number of SHIB holders was 1,271,666 on Nov 17; on Nov 19, it increased to 1,276,281.
As per the details from CoinMarketCap, Shiba Inu's trading volume soared over 92% in the last 24 hours.


Market turmoil triggered a spike in SHIB trading volume
Even though most cryptocurrencies, including the meme coins, lost a chunk over the last 24 hours, the trading volume has displayed a notable jump. The trading volume that was standing at 92% has now dropped to 79.59%, which is indeed considerably high. The last 24-hour trading volume currently stands at $195,404,458. DEX's trading volume for SHIB currently stands at $1,719,763.69. However, CEX trading volumes constitute the majority of trades, with over $193 million.
SHIB is trading at $0.000008447 at press time, with a loss of 5.84% in value over the last 24 hours. Notably, there has been a slight increase in the burn rate over the same period. SHIB burn rate currently stands at 307.08%, as per the details from Shibburn.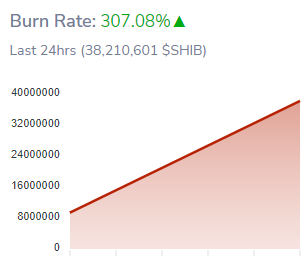 38,210,601 SHIB have been sent to dead wallets during this period. The majority of burns are the result of two large transactions involving 26.7 million and 11 million SHIB. The market seems to be still immersed in the downfall of FTX, as regulators around the globe are now eyeing quicker regulation.