332,000 Users Mint, Trade NFTs on Polygon: Thanks to Trump NFTs?
Last week, Former President Donald Trump released a collection of 45,000 NFTs. The tokens, minted on Polygon, sold out completely like hot pancakes in a period of less than a day.
Per press time data from OpenSea, the total volume of the Trump Digital Trading Card collection stood at 6332 ETH or around $7.5 million. Furthermore, the floor price reflected a value of 0.344 ETH [$406.74]. The same marked a rough 4x elevation from its original launch price of $99.
According to community reactions on social media platforms, Trump's move is likely intended to merge NFT fan engagement with politics ahead of the next presidential election.
Also Read: Donald Trump Announces 2024 Presidential Campaign
Polygon Network Activity Boosts
The Polygon network seems to be one of the biggest beneficiaries of the launch of Donald Trump's NFT collection. Data from data analytics and insights platform Nansen revealed that the most expensive purchases on Polygon in the last 24 hours were mostly Trump Trading Cards. The valuation of the top-12 expensive tokens revolved in the price bracket of 28.5k MATIC to 3.4k MATIC (approx. $22.8k to $2.7k).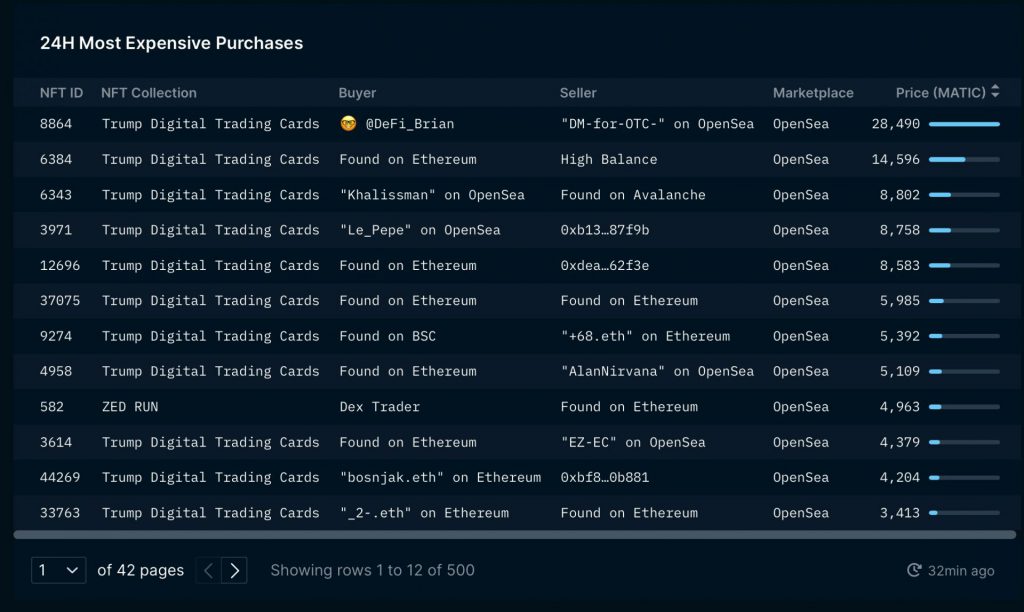 Also Read: Donald Trump NFT Collection Sells Out
Furthermore, the weekly stats have also seen a significant improvement. As illustrated below, 332,000+ users minted or traded NFTs on the Polygon blockchain over the past week. In fact, the number of mints and the number of Polygon OpenSea users were at their highest level since Nov '21 at press time.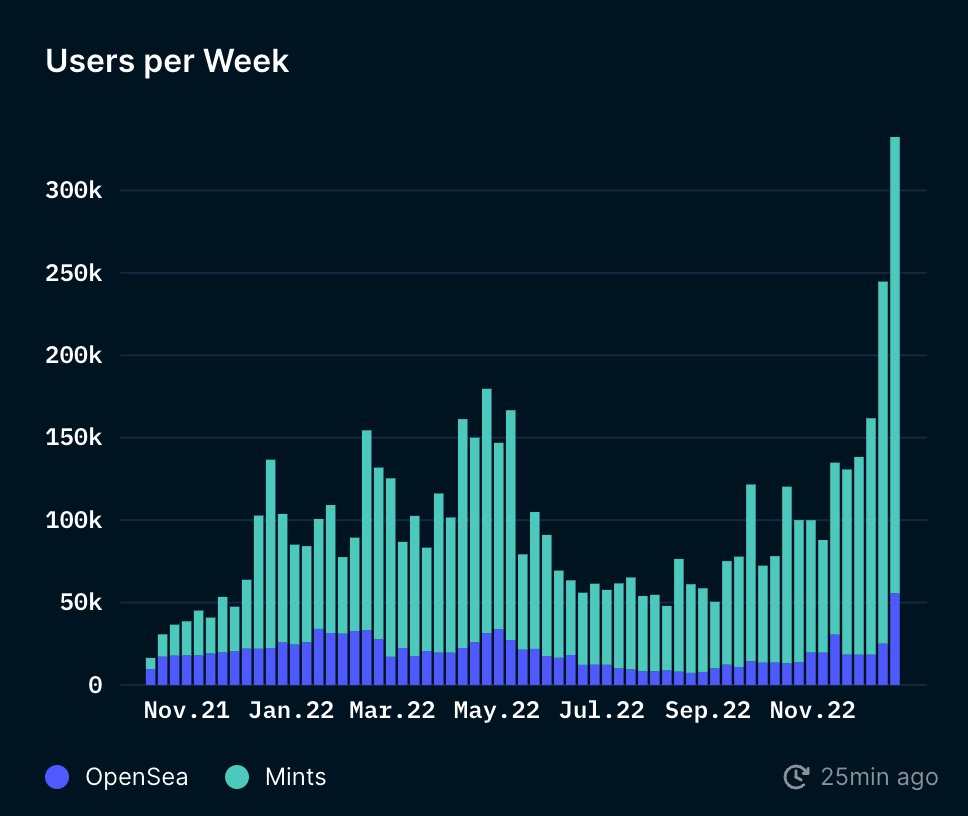 Also Read: Donald Trump's NFT collection generates $4.35M in Revenue
As far as sole collection stats are concerned, data from Dune Analytics revealed that around 12.874 users minted an average of 3.5 NFTs post the collection's launch. The aggregate trade count of the collection peaked at 22.6k at press time.