Bankrupt Bitcoin Miner Gains Access to $37.4M loan
After a failed financial plan of $72 million put forth by its largest creditors B.Riley Financial, Core Scientific filed for Chapter 11 Bankruptcy. While this did not come as a surprise, the Bitcoin miner's existing creditors were coming as its saving grace.
Earlier today, the U.S. bankruptcy court gave Core Scientific a green signal to access loans from its creditors. This loan worth $37.5 million is expected to aid the firm in its ongoing liquidity issues. U.S. Bankruptcy Judge David Jones, however, gave the firm access to the loan on an interim basis.
According to Reuters, in January 2023, the company will ask for the final approval of the loan along with permission to borrow an additional $37.5 million. It should be noted that the company's lawyer stated that it is open to better financing proposals from other lenders.
Additionally, the Bitcoin miner affirmed that it wouldn't liquidate. Core Scientific is seeking restructuring that is overseen by its creditors. The creditors of the firm entail more than 50 percent of its convertible notes.
Is this the start of a Bitcoin miner contagion?
The 2022 bear market brought down a plethora of crypto projects. The Bitcoin mining industry was hit the hardest while BTC's price struggled to garner prominent support. In addition to this, rising energy costs along with Celsius Network's unpaid debt of $7 million pushed Core Scientific into bankruptcy.
With Core Scientific's latest bankruptcy filing, industry experts pointed out how more miners would follow suit.
Deepanshu Bhalla, director at Virtual Compliance, said,
"It may trigger sell-off in the shares of other publicly traded Bitcoin mining companies as investors would cut their exposure in these companies."
As per a recent report, it was brought to light that 15 percent of all the Bitcoin mined in 2022 was produced by publicly traded firms. As seen in the chart below, Core Scientific accounted for most of it.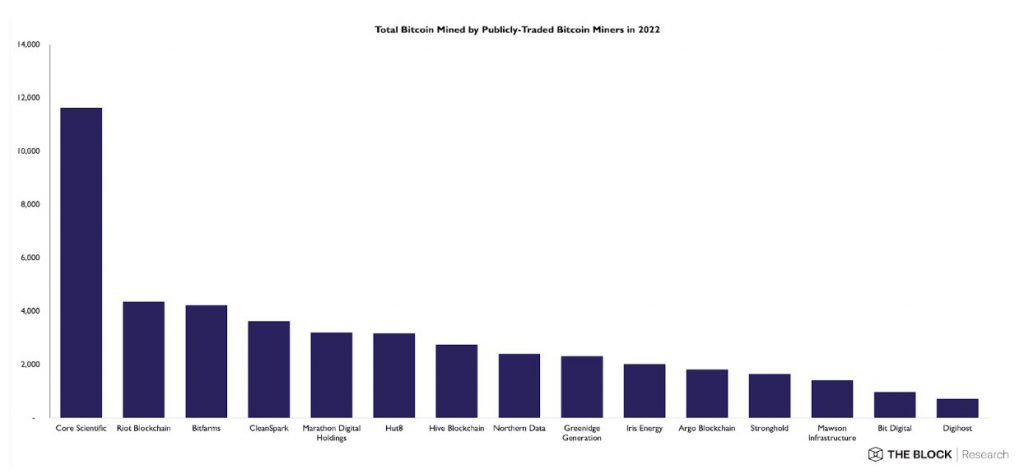 On the contrary, the stocks of Core Scientific Inc recorded a 72.94 percent surge earlier today.