Binance Temporarily Halts Terra Classic (LUNC) Burns: Token Declines 12%
According to an official announcement, Binance is changing the Burning of Terra Classic (LUNC) Trading Fees mechanism. The move is a response to the developments around Proposals 10983 and 11111 to fund the commodity pool. The proposals allow LUNC burns to be re-minted as development funds.
As per the statement, Binance will decrease its Terra Luna Classic (LUNC) spot and margin trading fees burn to 50% instead of 100% from December 2022. Additionally, until March 1st, 2023, the largest crypto exchange in the world won't send the LUNC trading fee burn contribution. The move is an attempt to prevent LUNC trading fees from being re-minted.
The statement notes that,
"LUNC burn mechanism will not affect trading fees on LUNC spot and margin trading pairs, with the maximum trading fee rate remaining 0.1%."
What are Binance's requests?
The exchange is in communication with the team from the Terra Grants Foundation to make some changes. As per the statement, Binance has requested the creation of a new burn wallet. The exchange will send the LUNC spot and margin trading fees to the new wallet, which does not allow re-minting the burn amount. The firm has also requested the whitelisting of its wallets. This is "so that the transaction tax is not applied when transferring between these wallets."
Binance has temporarily suspended sending the LUNC trading fee burn contributions until March 1st. This will give ample time for the project to make the necessary changes.
However, if the changes are not met within the allotted time frame, the exchange "will consider withdrawing the burn contribution going forward."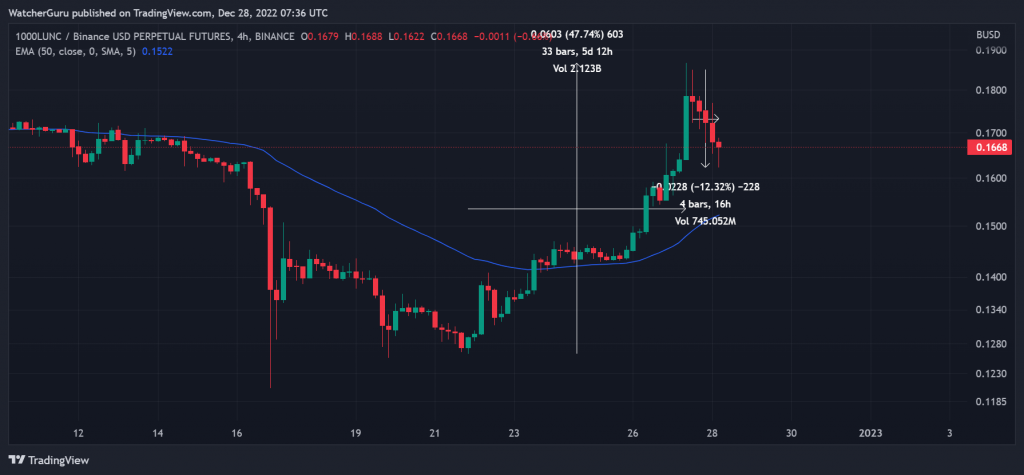 Over the past 24 hours, LUNC's price has undergone a correction of 12%. However, it is important to note that since 22nd December, the asset also registered a recovery of 47%. At press time, LUNC was trading at $0.00016568, up by 1% in the past hour.