Cardano Creator Tries to Rope In Solana as Sidechain
The crypto-verse isn't new to collaborations between networks. However, the Cardano [ADA] network's efforts in urging Solana [SOL] to become its sidechain came as a surprise to many. A Twitter poll started by an anonymous Twitter user was garnering immense attention from the crypto community. A whopping 82 percent of participants were yearning to witness a collaboration between these networks.
Cardano's creator, Charles Hoskinson veered in and went on to acknowledge the poll. In addition to this, he advised the team behind Solana to become a Cardano sidechain.
While this started off as a joke by Hoskinson, where he appeared in a Twitter Space discussion and said, "Solana could end up becoming a side-chain of Cardano."
It should be noted that this was started as a mere joke. The possibility of Solana becoming a sidechain for the ADA network was dainty. Each of these networks functions uniquely and employs different algorithms.
Additionally, bringing in a proper sidechain for Cardano could certainly spruce up its scalability. However, Solana's scalability has time and again been lauded.
Previously, Dogecoin [DOGE] was asked to migrate to the Cardano network and operate as its sidechain. This was when Hoskinson began seeing utility in Dogecoin following Elon Musk's Twitter takeover.
Did the Cardano community take this joke too far?
As soon as this got out, several from the Cardano community veered in and took a dig at Solana. These members went on to suggest that joining the ADA network would be Solana's only hope to survive. A few others took a jab at the network and said, "A side chain that shuts down?"
It clearly hasn't been a very great year for the Solana network. With increased exposure to the FTX debacle, SOL collapsed from a high of $197.88 to a low of $11.01 within a period of one year.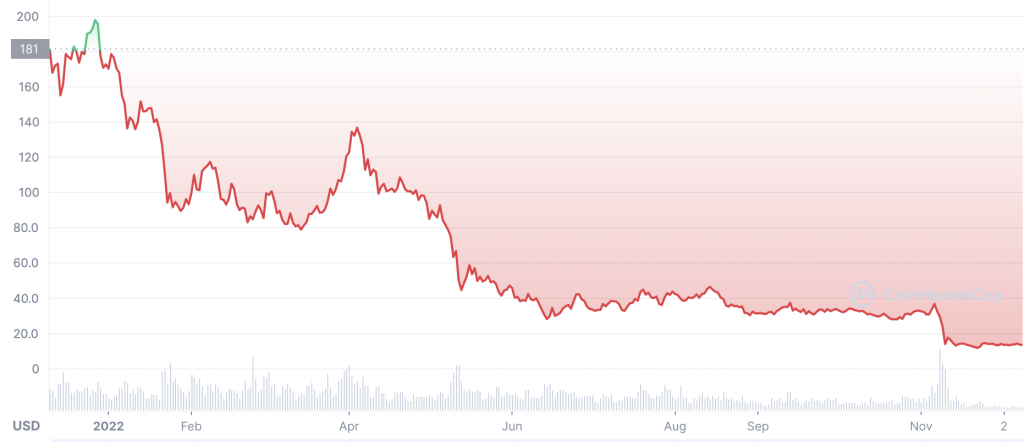 At press time, SOL was trading for $13.67 with a 1.20 percent daily surge.