Celsius advisory fee reaches $53M: Firm files deadline for user claims
Prominent crypto lending firm Celsius was one of the first platforms to file for bankruptcy in 2022. The case has taken many turns with government agencies intervening. Parallelly, customer woes continue to prolong.
In a recent development, it was revealed that Celsius is preparing to file a motion that will extend the deadline for users to submit their claims. Its official tweet regarding the same noted that they were seeking to push the bar date from January 3, 2023, until early February.
Also Read: FTX Investors Realize $9B In Losses: 3AC, Celsius' Numbers Much Higher
Celsius said that its goal is to provide account holders with additional time to file any proof of claim. Furthermore, it revealed,
"This motion is scheduled to be heard by the Court at our hearing on January 10, 2023. For now, the deadline is extended until the motion is heard by the Court. We will provide further updates on the bar date as they become available."
Simplistically, the claims process allows creditors who believe they have a right to payment, to file a claim during bankruptcy proceedings. Until now, around 17.2k creditors have made claims.
Advisor Fee Balloons Up For Celsius
It is worth noting here that lawyer fees in crypto bankruptcies have been mounting. A recent report from Financial Times revealed that advisers in the Celsius case billed millions for four months of work. Elaborating on the same, it revealed,
"Lawyers, bankers and other advisers in the Celsius case that began in July recently submitted detailed fee requests to the New York federal bankruptcy court totaling $53mn."
The report further clarified Per US law, these official advisers will have these administrative expenses subject to court approval, paid by the "estate" or the company. It goes without saying that the same will use up the recoveries of account holders.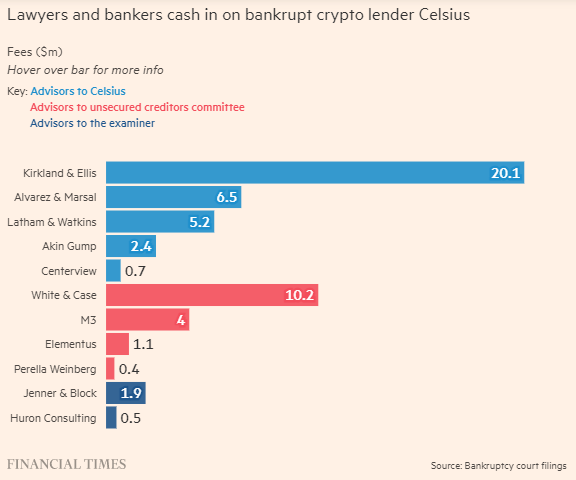 The crypto community has not essentially welcomed Celsius's latest plan with open arms. Commenting under the motion filing thread, a particular user questioned,
"So the lawyers get millions but I wonder what us small fry folks get?"
Another user frustratingly tweeted,
"Stop wasting time stop extending, just go on with proceedings and give me my money back!!!!"