Crypto: Bybit to slash 30% workforce again
Bear markets have come and gone. Over the last several years, the industry has witnessed several terrifying bear markets. The ongoing one, however, seems to be hurting the crypto-verse the most. While bankruptcies took over the market, mass layoffs also dominated the front stage. Although the community found some solace in Bitcoin [BTC] reclaiming $17K, Bybit's most recent news alarmed many.
Over the weekend, Ben Zhou, the co-founder, and CEO of Bybit revealed that the firm was carrying out its second round of layoffs. As per this, the firm's total workforce would be cut by 30 percent. This time, the layoffs would reportedly be across the board as well. While noting that it was a "difficult decision," Zhou said, "tough times demand tough decisions."
He further suggested that this was done in light of the firm's efforts in the re-organization of the business amidst the detrimental bear market. The Bybit CEO added,
"We are all saddened by the fact this reorganization will impact many of our dear Bybuddies and some of our oldest friends. I am very grateful for all of their contributions to Bybit over the years and we will not forget them."
Bybit was rolled out back in 2018 and has thrived ever since. The latest news came as a surprise to many as Zhou announced that the firm was "bullish" during its recent 4-year milestone. In addition to this, the firm even extended support to provide liquidity to institutional traders that were exposed to the FTX debacle. The fund allocated for the initiative was a whopping $100 million.
Will the crypto industry manage to survive this bear market?
As mentioned earlier, mass layoffs have been taking place for several months. This trend continues to persist. Following Bybit, another prominent Australian crypto firm, Swyftx laid off 40 percent of its staff. While affirming that it had no exposure to the collapse of FTX, the exchange noted that it was "not immune" to the downfall of SBF's troubled platform. Elaborating on the same, Swyftx said,
"As a result, we have to prepare in advance for a worst-case scenario of further significant drops in global trade volumes during H1 next year and the potential for more black swan-type events."
A total of 90 members were let go. This further adds to the list of 10,000 employees that were laid off this year from prominent crypto firms.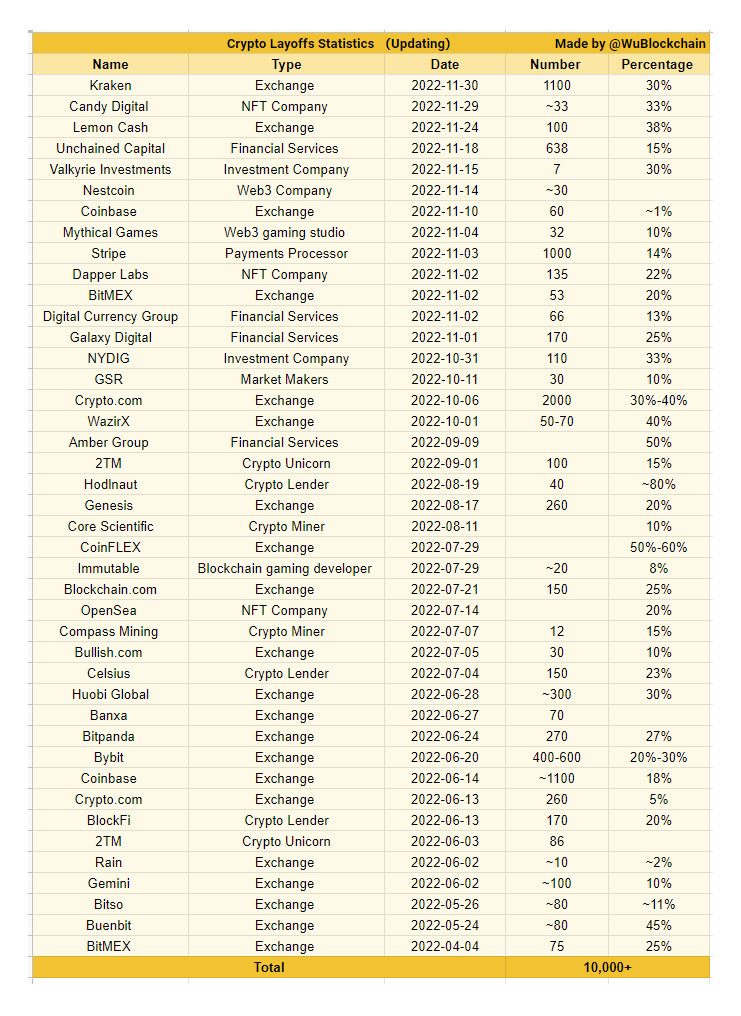 The above image represents that more than 10,000 employees were sacked throughout this bear market. Prominent exchanges like Crypto.com, Kraken as well as Coinbase recorded the most number of layoffs. While this brought about anxiety in the community, several speculated if the industry would survive the horrendous bear market.