Crypto ETFs Among Worst Performers: Stocks & Bonds not Spared
Crypto-related ETFs are among the worst-performing assets in Australia and the United States. Investors have received negative year-to-date (YTD) returns of almost 82% and 72% from BetaShares Crypto Innovators ETF (CRYP) and Cosmos Global Digital Miners Access ETF (DIGA), respectively, up to December 30.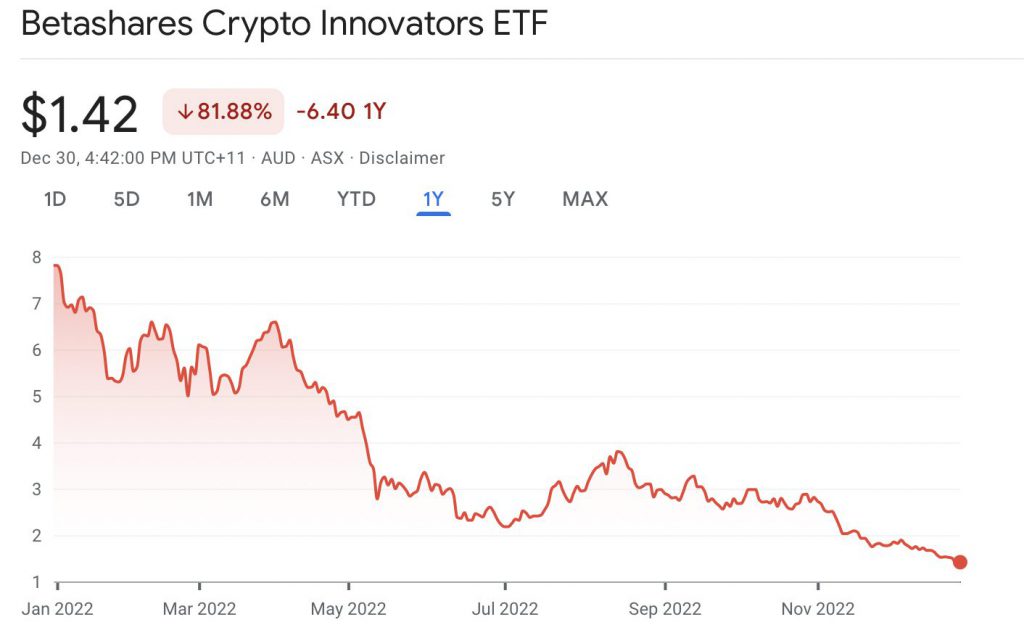 CRYP debuted on the Australian Securities Exchange (ASX) in October 2021. The launch was weeks before most cryptos, such as Bitcoin (BTC) and Ethereum (ETH), hit all-time highs. CRYP offers exposure to publicly traded blockchain and crypto businesses, including Riot Blockchain, Coinbase, etc. Mike Novogratz's investment firm, Galaxy Digital, is currently the largest, holding 12.3% of its portfolio.
Additionally, through the Global Digital Miners Index, Cosmos' DIGA ETF monitors the performance of a portfolio of businesses dedicated to mining Bitcoin or other cryptocurrencies.
Moreover, American ETFs did not perform too well either. According to statistics from ETF.com, the top four worst-performing U.S.-based ETFs are all related to crypto assets. The Viridi Bitcoin Miners ETF (RIGZ), permitting exposure to publicly traded cryptocurrency miners, including Riot and CleanSpark, registered a maximum decline. Investors received a YTD return that was minus 87%.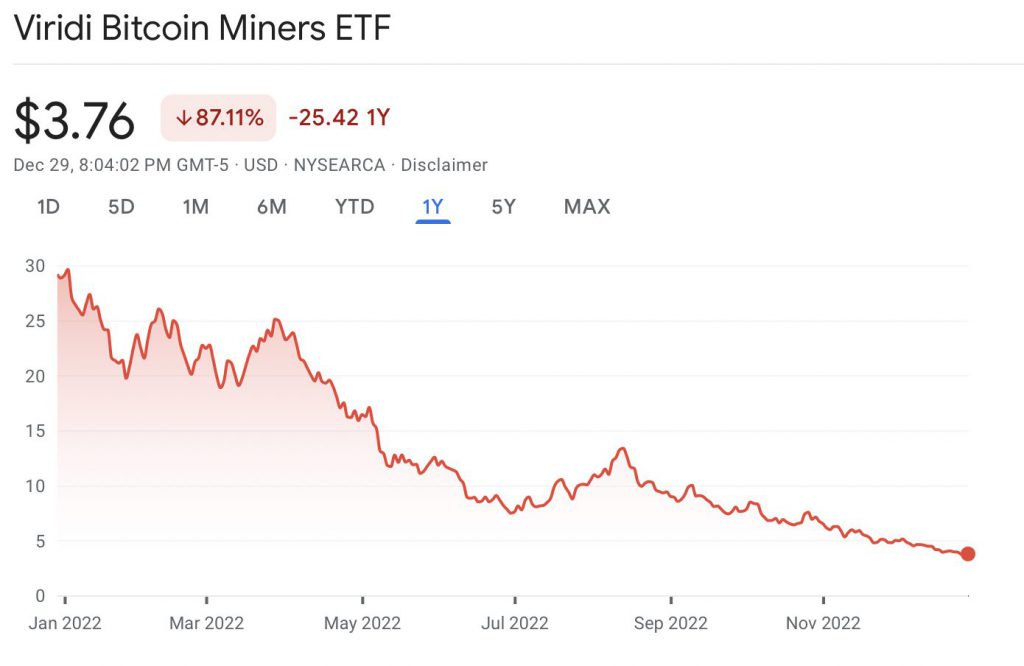 Trust SkyBridge Crypto Industry and Digital Economy ETF (CRPT), Bitwise Crypto Industry Innovators ETF (BITQ), and VanEck Digital Transformation ETF (DAPP) all followed closely in terms of underwhelming returns.
Stocks & Bonds follow crypto ETFs with poor performance
Alongside crypto-based investment vehicles, U.S. equities have declined by about 20% since the start of 2022, while US bonds had their worst year in generations.
According to a Financial Times article published on Nov. 30, a typical portfolio composed of 60% equities and 40% bonds will have seen its poorest return since 1932, when the United States experienced the Great Depression.
According to Yahoo Finance, Netflix, Meta, Zoom, Spotify, and Tesla had their share values plunging between 51% and 70%.
The overall market capitalization of all cryptocurrencies decreased by 64.5% during the year, from $2.25 trillion to $798 billion. The stock and sector reductions do put the current crypto winter in a better perspective.
At press time, the global crypto market cap stood at $829 billion, up by 0.1% in the last 24 hours.