Dogecoin: DOGE Price Analysis for December 18
After Tesla CEO Elon Musk revealed he had invested in the meme coin, Dogecoin enjoyed a meteoric rise in popularity in 2021. Last year, DOGE was the talk of the town and brought in millions of new investors to the cryptocurrency markets. In May 2021, the price of the meme coin soared to $0.73, leaving early investors sitting on sizable profits.
Several investors who bought the coin when it was trading for less than one cent became millionaires overnight. However, after reaching its ATH, Dogecoin's price fell precipitously, never to rise again, even 19 months later.
As per the data from CoinMarketCap, DOGE has spiked in value by 1.65% in the last 24 hours. DOGE is trading at $0.07839 at press time.

DOGE price analysis for December 18
CoinMarketCap data reveals that DOGE is trading at a $0.07755 support level on the hourly chart. DOGE has set the resistance at $0.07949. If DOGE is likely to continue on this trajectory, it is probably going to touch the $0.8 zone.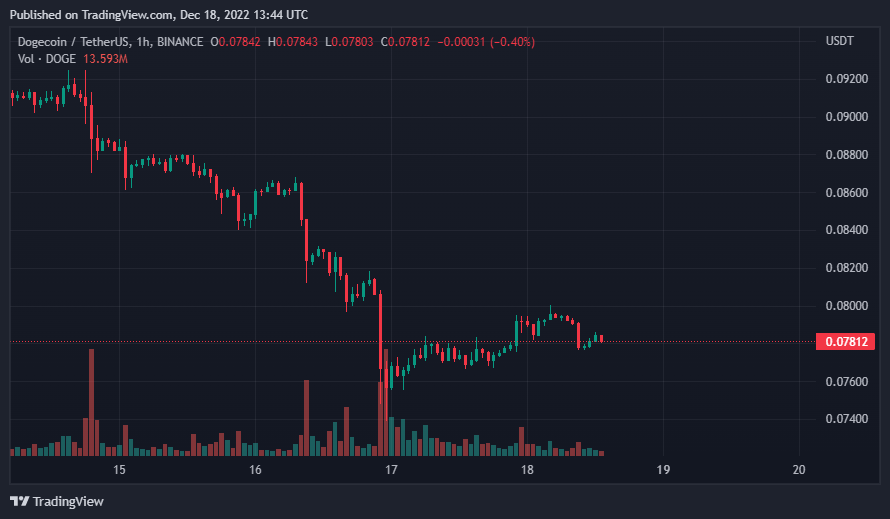 If DOGE breaks the $0.08 level, it is likely to enter the $0.084 zone. However, in terms of the weekly chart, the price is likely to touch the $0.07053 support level.
Nevertheless, DOGE is likely to break all predictions and skyrocket if the meme coin is incorporated as a payment method on Twitter.