Dogecoin makes a comeback following Musk's latest endorsement
The OG meme crypto, Dogecoin [DOGE] was revolutionary to the crypto-verse. The asset received support from billionaire Elon Musk who played a major role in keeping the asset relevant. Therefore, the price of DOGE was closely linked to Musk's moves. His latest Twitter acquisition had a prominent impact on the price of the asset. Now, after staying lowkey for quite some time, Musk was once again seen talking about DOGE.
During a recent Twitter Spaces conversation, Musk went on to reinstate his inclination towards the asset. The billionaire said "Dogecoin to the moon" when he was asked about the OG meme crypto.
There have been a plethora of speculations about including DOGE on Twitter. As mentioned earlier, news of Musk's Twitter acquisition boosted the price of the asset. This was certainly done in hopes of implementing the asset on the social media platform. Speaking about the same, Musk noted that with Twitter he intended to make it easier to move DOGE around.
Earlier today, Billy Markus, the co-founder of DOGE went on to thank Musk for his latest comments.
While Musk did stay mum for some time with regard to DOGE, his latest comments certainly brought back hope into the community. With the billionaire still inclined toward the asset, Dogecoin recorded a dainty surge. At press time, the asset was trading for $0.1043 with a 0.26 percent rise. However, the seven-day price change of the meme coin rose to a positive 11.13 percent.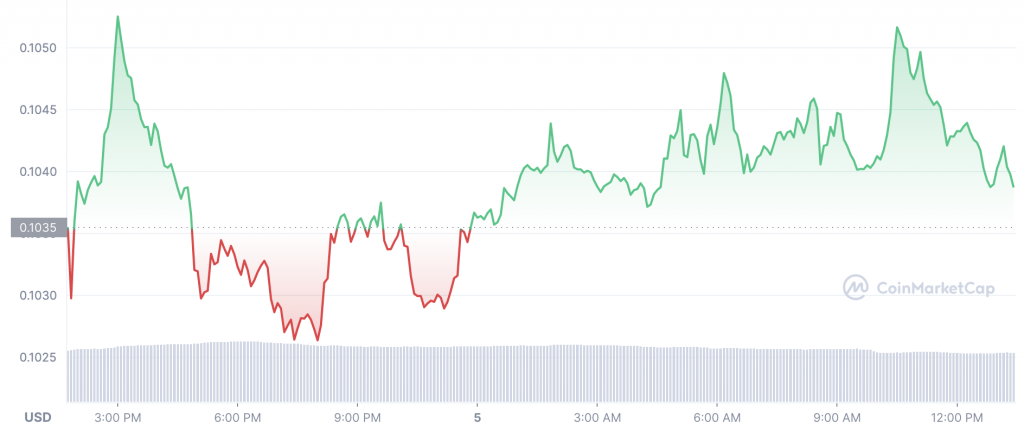 As seen in Dogecoin's daily chart, the asset rose to a high of $0.1053 all the way from a low of $0.1026.
Here's how profitable Dogecoin currently is
While the rest of the market has been in a slump, Dogecoin has witnessed a significant rise in its price over the last couple of days. The holders of its counterparts have been experiencing intense loss. Amidst this, DOGE holders that were bagging profits rose to 62 percent.
This further indicated that Dogecoin was neither being oversold nor overbought. Residing on the middle ground, the asset was profitable.