Dogecoin Surpasses Coinbase (COIN) in Market Cap
Dogecoin has had a remarkable journey over the years. Since its inception, the meme coin has gone through different phases to stand where it is now. The initial journey was tough for DOGE, as it was criticized for being just a meme token and nothing more.
However, Elon Musk's interest in the meme coin aided in its skyrocketing price and popularity. With Elon Musk taking over Twitter, the likelihood of DOGE being incorporated into the social media platform has also been thrown around.
Dogecoin has hit several milestones over the past year. The meme coin has now surpassed Coinbase (COIN) in terms of market capitalization.
DOGE dethrones COIN, what's next?
As per the data from CoinMarketCap, DOGE is now ranked eighth in terms of global market cap. The current market cap of DOGE stands at $9,939,409,201.

Data from Google reveals that Coinbase's market cap is currently $8.1 billion. The market cap of DOGE is almost $1.8 billion more than that of COIN.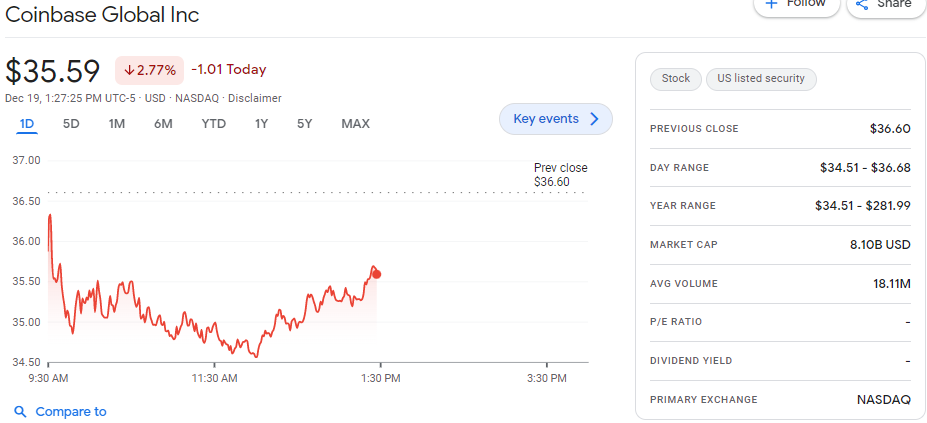 Market cap is nothing but the metric that represents the total market value of a particular stock or cryptocurrency. DOGE's growth has been remarkable as opposed to Coinbase, which was founded in 2012.
If DOGE makes its way to Twitter, it will definitely be a boost for Dogecoin. The incorporation can help to drive the price, and it also adds a new utility to the meme coin.