FTX Investors Realize $9B In Losses: 3AC, Celsius' Numbers Much Higher
2022 will go down in the books of crypto history as the year of collapses and bankruptcy filings. Right from 3 Arrows Capital to Celsius, Terraform Labs, Voyager, and Vauld to Genesis, Alameda Research, and FTX, a bunch of prominent names feel down on their knees. Their disintegration fractured the crypto space as a whole, and investors had to bear the brunt of the same.
FTX Investors Not The Worst Affected
FTX was among the top exchanges before its collapse. Until now, it seemed like its investors were the worst-affected victims. That might, however, not be the case. A recent analysis thread on Twitter by Chainalysis noted,
"Our data suggests that FTX's demise hasn't been crypto investors' biggest issue this year. Both the depegging of Terra's UST token & the collapse weeks later of Celsius & Three Arrows Capital (3AC) drove much bigger realized losses."
In the case of UST, the investor loss figure stood at $20.5 billion. The same stood at a whopping $33.0 billion in the case of Celsius and 3AC. FTX number stood much deflated at $9 billion.
The analytics platform, however, added a disclaimer that the attached chart did not take everything into account. It elaborated,
"These charts don't take everything into account: For instance, people who used FTX lost any funds they kept on the exchange, and the likelihood of recovering them is unknown."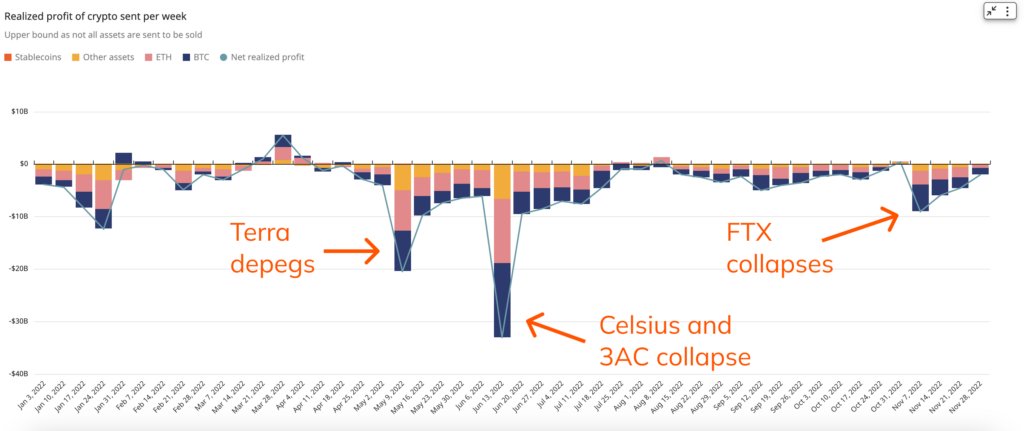 The likelihood of FTX investors recovering funds seems to be quite minimal. However, as chalked out in an article yesterday, FTX US users are in a comparatively better position than the platform's international user base.
Read More: What are the odds of FTX users recovering funds?
The thread concluded by asserting,
"… from a market-wide point of view, the data above suggests that as of now, the heaviest hitting crypto events were already behind investors by the time the FTX debacle took place."
The collapse of the aforementioned firms took people from the community aback. However, there's still a glimmer of hope. Now that the filtering out of firms has already happened, the space is left with handpicked firms that are fundamentally strong and trustworthy. Investors, at this stage, ought to keep all the lessons learned in mind and continue marching forward.