Here's how Bitcoin miner Core Scientific avoided bankruptcy
The Bitcoin [BTC] mining industry was one of the most affected sectors amidst the ongoing bear market. With BTC's price at a fairly low level, mining the king coin hasn't been very profitable. Prominent mining firms were seen crumbling as BTC failed to garner support. Core Scientific was even on the verge of filing for bankruptcy. However, the platform seems to have found a way out.
B.Riley Financial, one of the largest creditors of Core Scientific wrote an open letter to the shareholders as well as lenders of the firm. The financial services platform noted how bankruptcy was unnecessary while putting forth a $72 million financial place. Through this, B. Riley hoped to prevent Core Scientific from filing for Chapter 11 bankruptcy.
Following this proposal, Core Scientific's stock witnessed a prominent spike. Back on December 12, the shares of the Bitcoin mining firm were at a low of 13 cents. However, following a 200 percent surge, it jumped up to a high of 43 cents, at press time.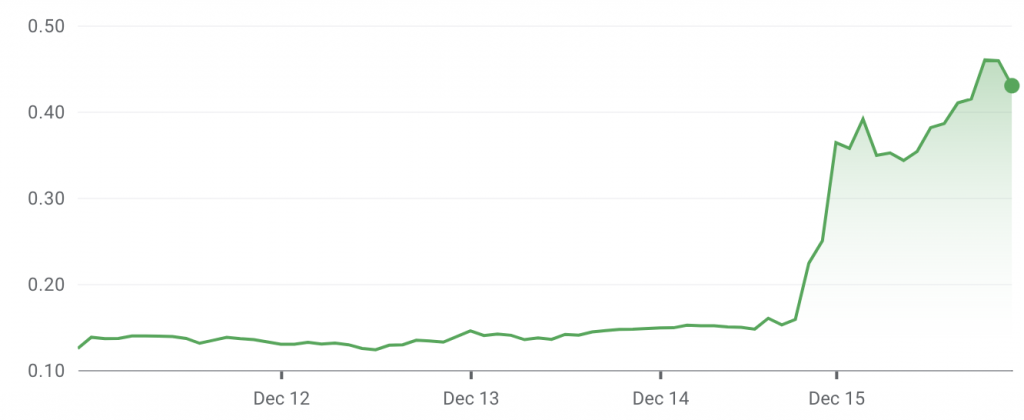 Things definitely changed on Thursday as the mining platform welcomed large options trading. It was reported that traders amassed 6,572 call options. This was a 136 percent rise when compared to its average volume of 2,780 call options.
This rise could be linked to the open letter penned by B. Riley. A plethora of investors were purchasing shares in the hope of the financial plan falling through.
Another Bitcoin miner Argo Blockchain recently revealed that bankruptcy was still on the table. Taking these platforms into consideration, Core Scientific lucked out and could most likely avoid bankruptcy.
Did Bitcoin's surge to $18K benefit miners in any way?
The crypto-verse rejoiced as Bitcoin surged to a monthly high of $18,318.53. The asset, however, experienced correction and was trading for a low of $17,472, at press time. It should be noted that miners barely bagged profits during this time.

As seen in the above chart, Bitcoin mining profitability was at 0.0706 USD/Day for 1 THash/s.