Here's why Solana is being labeled a "Shitcoin"
A plethora of assets plunged to massive corrections this year. Solana [SOL] was certainly one among them. While most crypto assets recorded a 60-70 percent year-to-date [YTD] plummet, SOL was down by 94 percent. This further made SOL one of the biggest losers of the year.
Further commenting on the same, Arthur Hayes, the co-founder of crypto exchange BitMEX labeled SOL a "shitcoin." Addressing a recent article by Bloomberg, Hayes tweeted,
It seems like Hayes' wasn't the only one putting forth the "shitcoin" narrative for Solana. Jihan Wu's asset management platform, Matrixport revealed that it will delist Solana and SOL-U dual currency products. These assets will reportedly exit the platform on December 30, 2022.
Earlier this year in June, Matrixport emerged as the first platform to launch a Solana dual currency product. However now, the platform affirmed that it would refrain from rolling out any new Solana products in the future.
Here's how Solana performed throughout 2022
Solana has been the talk of the crypto town ever since its launch. The network was lauded for its fast transactions and low fees. Several opted for the asset and viewed it as a good investment. However, FTX disrupted the asset's hot streak.
As seen in the below chart, Solana was on a downward spiral. The asset went from a high of $179.43 at the beginning of the year all the way down to a low of $9.52, earlier today.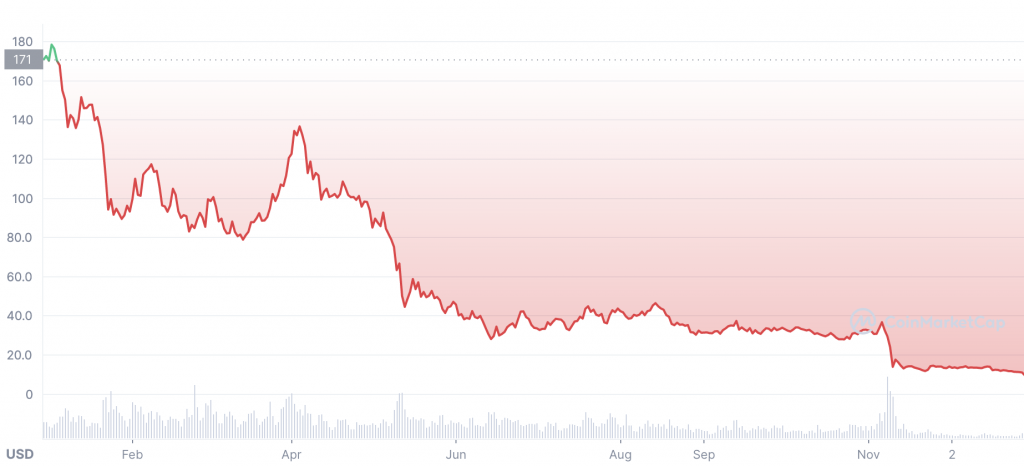 Hayes believes that the asset is poised to go lower. Back in November 2022, Hayes made a prediction that SOL would drop down to a low of $3. He said,
"Crypto OG diamond hands are waiting for lower levels and will step in to further increase their stacks.
Bitcoin (BTC) = $10,000 – $15,000
Ethereum (ETH) = $750 – $1,000
Solana (SOL) = $3″