Is Bitcoin More Popular Than Andrew Tate?
Owing to his Twitter spat fight with climate activist Greta Thunberg, American-British social media personality and former kickboxer Andrew Tate has been the talk of the town for all the wrong reasons over the past few days. On social media, almost every active user has an opinion about what is going on. Resultantly, hashtags around his name were trending on Twitter at press time.

Earlier this week, Thunberg was provoked by Tate who thought it'd be fun to mock the 19-year-old by flaunting his 33 cars. However, he was slapped with—what the internet claims to be—the perfect comeback.
Tate's subsequent video reply gave away the chauvinism poster child's location and he got detained in Romania, while Thunberg has been accredited for "really healing the world."
Now you might wonder, why is this crypto-centric article talking about Andrew Tate? Well, just read along until the 'The Merge' section to find out.
Enter Bitcoin
People's interest with respect to Bitcoin has dramatically dropped over the past few months. Several reasons can be attributed to the same. Firstly, multiple collapses within the crypto industry have single-handedly managed to erode away people's trust.
Next, the bear market has made the asset unappealing to investors wanting to make a quick buck. The resultant volatility suction from the market has further made traders also steer away.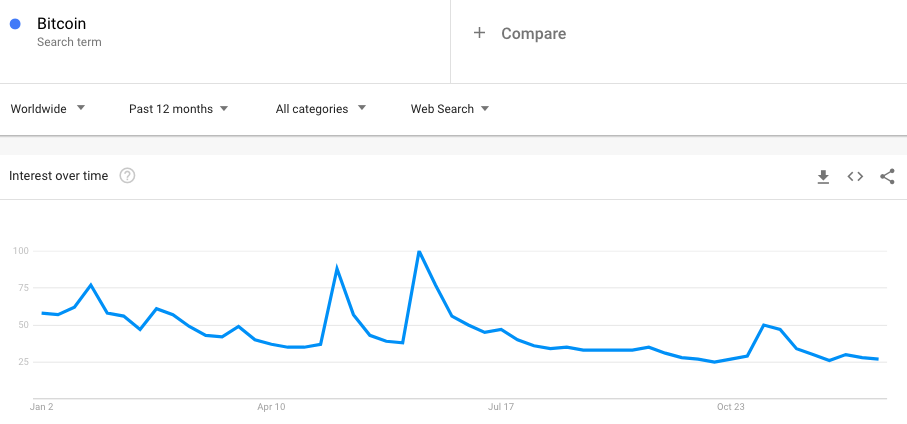 Also Read: Bitcoin: Long-Term Trader RoI Drops To -34%
Despite the interest downtrend, it is interesting to note that Bitcoin's dominance has been on the rise. Social Intelligence platform LunarCrush recently revealed,
"Bitcoin dominance has risen +24% this month, making its current market dominance 38.65% of the 4,051 coins we track on LunarCrush."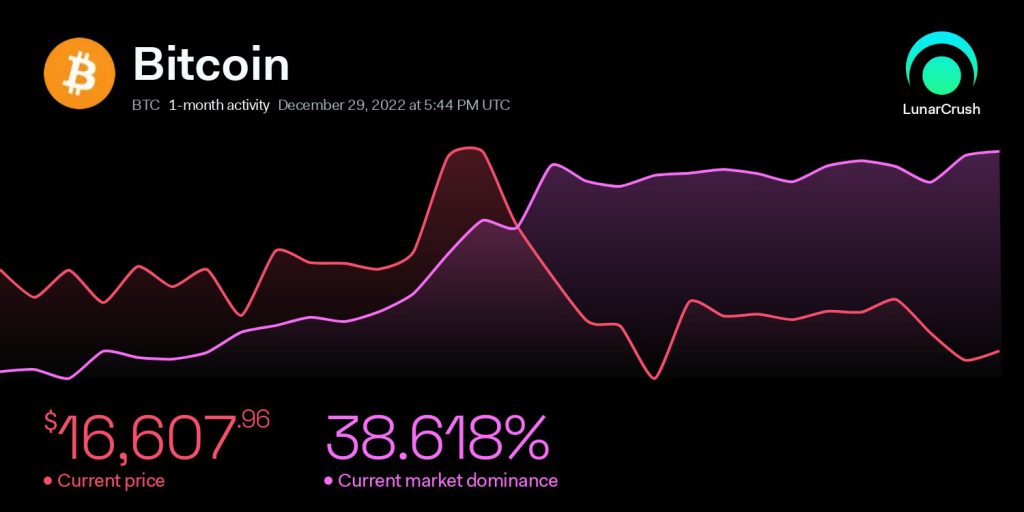 Also Read – Bitcoin: Are Affordability & Accumulation Going Hand In Hand?
The Merge
Like Andrew Tate, Solana is currently the talk of the crypto town. However, all that glitters is not gold. Of late there have been several claims doing the rounds that most development activity on Solana is essentially faked via artificial identities. Furthermore, people from space have already started using the term "shitcoin" to talk about SOL. That is clearly unwelcoming.
So, keeping all the aforementioned exhibits in mind, it can be deduced that popularity is not always great. It's alright if Bitcoin is not in the limelight for now. It's alright if people from the community are not hyped up. In fact, as asserted by Santiment recently, euphoria wipe-outs usually make more room for the price to organically climb up further.
As a matter of fact, Bitcoin is currently not as popular as Andrew Tate.

However, it continues to maintain a commanding position in the market. Adoption is on the rise despite choppy conditions. The price of the asset did not once fall below $15k this year. Accumulation and affordability are going on hand in hand. Institutions have supposedly become tired of shorting the asset.
Well, the list of positive takeaways seems to be endless and these are the things that should matter to investors and Bitcoin enthusiasts.
At the end of the day, only empty vessels make more noise and Bitcoin is not one of them, right?