Mark Cuban Wants Bitcoin To 'Go Down A Lot Further'
The ongoing bear run has tested the patience of most Bitcoin investors from space. However, it has also given critics a chance to re-cement their bear cases. Prominent Economist Peter Schiff, for instance, tweeted a few hours back that the "smart move" is to sell Bitcoin today.
Not everyone is on the same page as Schiff. American Entrepreneur Mark Cuban recently opined on a Club Random podcast episode that he wanted Bitcoin's price to drop further so that he can fill up his bags. He said,
"I want Bitcoin to go down a lot further so I can buy some more."
It is interesting to note that affordability and accumulation are going on hand in hand for Bitcoin at this stage. As illustrated below, addresses possessing 0-1K coins have accumulated a "lion's share" of coins at the recent market lows. However, the behavior is in contrast with bag holders of the previous cycle tops.

Also Read – Bitcoin: Are Affordability & Accumulation Going Hand In Hand?
What About Gold?
Irrespective of Cuban's stance, podcast host Bill Maher went on to state that he was "very anti-Bitcoin" and believed in the value of gold. He added that gold "never goes away" and is "like a hedge against everything else." Opining on the same, Cuban said,
"If you have gold, you're dumb as f***… No, but it's not a hedge against anything, right? What it is the stored value and you don't own the physical gold, do you? Gold is a stored value and so is Bitcoin."
He added,
"You don't own the gold bar, and if everything went to hell in a handbasket and you had a gold bar, you know what would happen? Someone would beat the f*** out of you or kill you and take your gold bar."
On the price front, nonetheless, gold's value is currently around the same level [$1800 threshold] where it was at this time last year. Bitcoin's valuation, on the other hand, has dropped by 66.95% over the past year.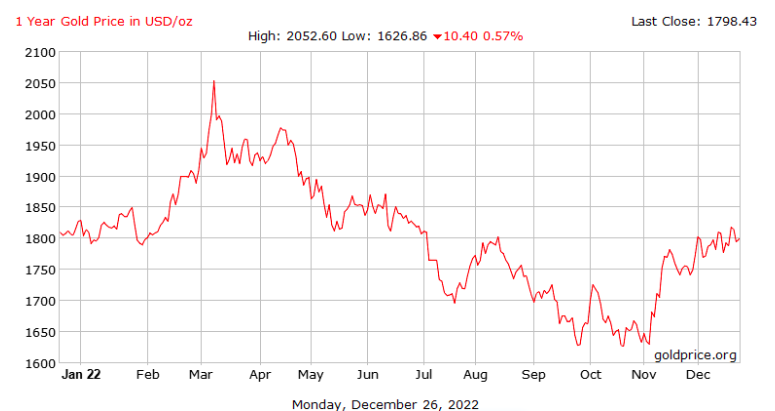 Also Read: Binance's CZ Tweets About Bitcoin "Brain Wallets": What Are They?
Despite the macro turbulence, Cuban said that he still believed in crypto's potential. He said,
"Separate the signal from the noise. There's been a lot of people making a lot of mistakes, but it doesn't change the underlying value."