"No indications" in code if Twitter Tips, Twitter Coin are DOGE related
Being able to pay tips on Twitter via cryptocurrencies is evidently one of the most awaited features that users are waiting for. After Elon Musk's Twitter acquisition, speculations gradually started becoming common. Now, reports suggested that there might be developments taking place in that direction.
Work in Progress for Twitter Coin?
A day back, Web Developer and App Researcher Nima Owji proclaimed that Twitter was "working" on "coins." Under the tips option under "Monetization," there was a logo of a golden Twitter Coin.
On Monday, App Researcher Jane Manchun Wong also shared screenshots highlighting the "Tip Settings" and "Coin Placeholder" features. Wong has tested an array of tech products and new features on social media platforms like the Edit button for Twitter Blue members. In fact, she has also uncovered several pre-launch features of Instagram, Facebook, Airbnb, etc. in the past.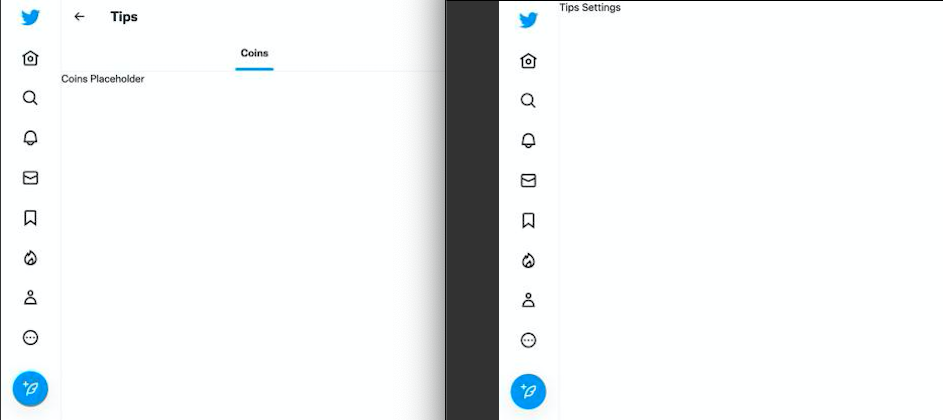 Speculating what the said feature would be used for, a particular user said that we might see tips being paid with DOGE and other coins "in the near future."
However, in another separate tweet, Wong went on to clarify,
no indications in the code as to what "twitter tips" and "twitter coin" even are, not to mention whether it's related to doge coins"

Jane Manchun Wong
It is important to note that towards the end of October, Wong tweeted out developing details about the social media platform's potential plans of launching a crypto wallet. She stated that the platform was working on a "wallet prototype" that supported "crypto deposit and withdrawal." Nevertheless, the development of the same was reportedly put on hold in November.
Even though the latest TWT Coin development was unconfirmed, Dogecoin was trading in the green on Monday. As highlighted in an article earlier today, Musk reinstated his inclination towards the asset during a recent Twitter Spaces conversation. The billionaire said "Dogecoin to the moon" when he was asked about the OG meme crypto. At press time, the asset was trading at $0.1062, post registering a 2% daily inclination.
Read More: Dogecoin makes a comeback following Musk's latest endorsement