Ripple: XRP Now Accepted by Top Real Estate Developer in Dubai
The cryptocurrency realm has always been destined for widespread adoption. Numerous well-known platforms, companies, and governments have openly embraced cryptocurrency. Particularly, Dubai has become a hub for the cryptocurrency industry.
Dubai is unquestionably a crypto enthusiast's dream location thanks to the government's interest in the metaverse and the legal framework that has allowed for the establishment of numerous cryptocurrency businesses.
Moreover, payments with cryptocurrency have been a dream of many. Even though cryptocurrencies are progressing in that direction slowly, Dubai is also two steps ahead. In one of the latest reports, it was revealed that XRP users can pay for homes in the UAE with the XRP token.
XRP payments for home made possible by Keturah Reserve
As per the details in the brochure of Keturah Reserve, the home developers are now accepting payments in cryptocurrency. This is a great initiative for cryptocurrency holders who need not go through the hassle of converting cryptocurrency to fiat.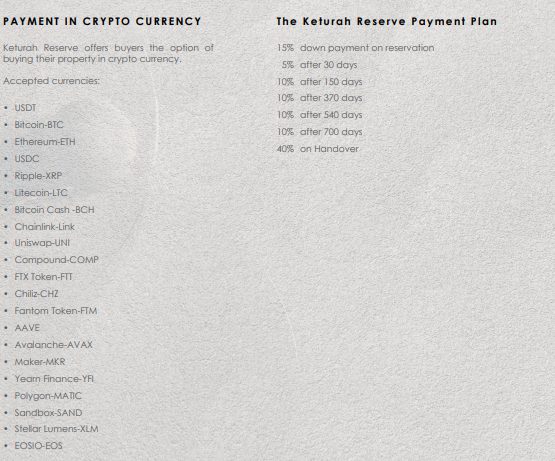 The ultra-modern home developer is also accepting other cryptocurrencies, including USDT, Bitcoin, Ethereum, USDC, LTC, and many other altcoins, as mentioned in the image above. Payments in cryptocurrencies will attract a lot of cryptocurrency holders and enthusiasts who are willing to make payments for homes in crypto assets.