Shiba Inu: SHIB Burn Rate Skyrockets Over 2300%
Shiba Inu has established itself as one of the most notable meme coins in the cryptocurrency world. The meme coins were initially identified as mere meme tokens, but they have since proven to be much more. Shiba Inu and its developments are responsible for the majority of meme coin growth.
Even though Dogecoin is known as the "king of meme coins," Shiba Inu is undoubtedly the most developed. The SHIB team has worked on a variety of projects for the SHIB Army. The SHIB burn initiative arose from the need to reduce the amount of SHIB in circulation. This, in turn, is done with the intention of creating scarcity and raising prices.
As per the details from Shibburn, the SHIB burn rate has skyrocketed by over 2349% in the last 24 hours.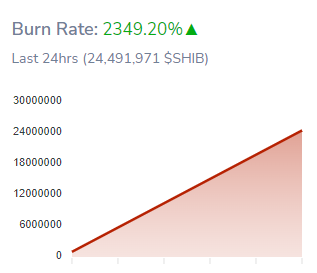 Shiba Inu burn rate shows a major spike
Shibburn website details reveal that over the last 24 hours, 24,491,971 tokens have been sent to dead wallets. Three transactions involved a sum of over 1 million, and two transactions sent 5 million each to dead wallets. One major transaction, consisting of 10 million, caused the major spike in burn rate.
The spike in burn rate has been one of the highest in recent times. At press time, SHIB was trading at $0.000009208 with no major movements in the last 24 hours. The rise in burn rate hasn't affected the price of SHIB significantly.