Solana Futures OI Surpasses $200M: Are Traders Bullish?
Despite being in a bear market, institutions have been eying Solana. It has consistently been able to register positive flows, making it the institutions' favorite bear market pet. As reported a fortnight back, SOL inflows stood at $0.4 million.
The number further improved the following week. Per mid-December's numbers, SOL noted a positive flow of $0.7 million. As shown below, all other crypto asset-related products [except short bitcoin products], noted negative flows.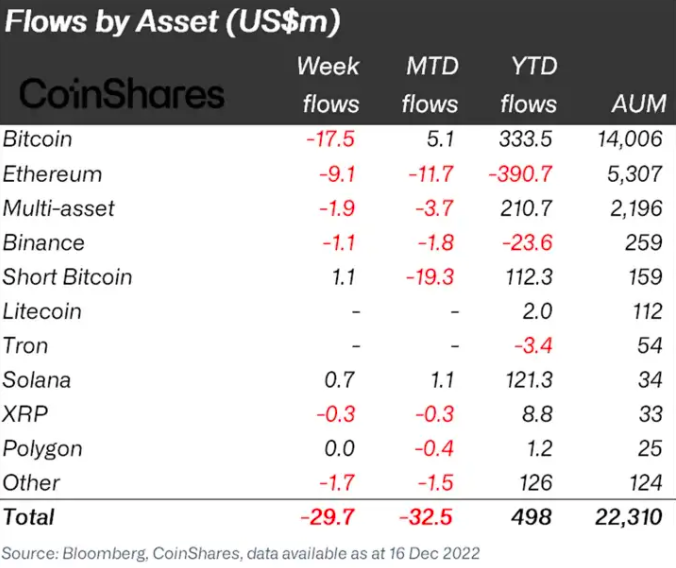 Also Read: Ethereum, SOL, MATIC, BNB: Which Altcoin has Favorable 'Bear Market' Odds?
Deribit De-lists Solana Inverse Options, Futures
Deribit, the largest options exchange, announced on Monday that it will stop offering Solana inverse products. This means, after the upcoming December 30, 2022 expiry, the platform will not list new Solana inverse options or futures.
Deribit's Twitter thread did not chalk out the reason behind the de-listing. People from the community, however, attributed the same to potentially low demand.
They also pointed out that such products were having large spreads and were thus likely illiquid.
Futures OI Notes Recovery
Leaving aside inverse Solana products, the Open Interest for the standard Solana futures contracts has been on the rise of late. The same typifies new money entering the ecosystem. On December 17, the cumulative SOL OI [futures] stood at $163.66 million. Post the gradual inclination, the same now stands north of $217 million.
On Deribit alone, the number has risen from $1.89 million to $2.03 million in the same timeframe.

New funds entering into the ecosystem is not a positive sign straight off the bat because traders could collectively be diverting them towards shorting the asset. For Solana, that essentially seems to be the case this time.
On all major exchanges, the funding rate was marginally negative. The same indicated that short traders have the upper hand at the moment because they are willing to fund long traders. Thus, it can be said that the collective trader sentiment is mildly bearish.

On the price front, SOL has lost 2% on the daily and 7.5% on the weekly. The $4.1 billion worth market-capped asset was trading at $11.31 at press time.