Bitcoin [BTC] records highest profit-take ratio since 2021
Throughout the last couple of days, Bitcoin [BTC] slashed its obituary narratives by rallying over $20K. This level has been tested for the first time since the collapse of FTX. At press time, the asset was trading for $21,125.00 following a correction from $21,360. Despite this setback, Bitcoin traders were pocketing significant profits.
According to Santiment, Bitcoin is currently experiencing the highest profit-take ratio since February 2021. BTC's counterpart, Ethereum exhibited a similar notion as its profit-take ratio was the highest since October 2021.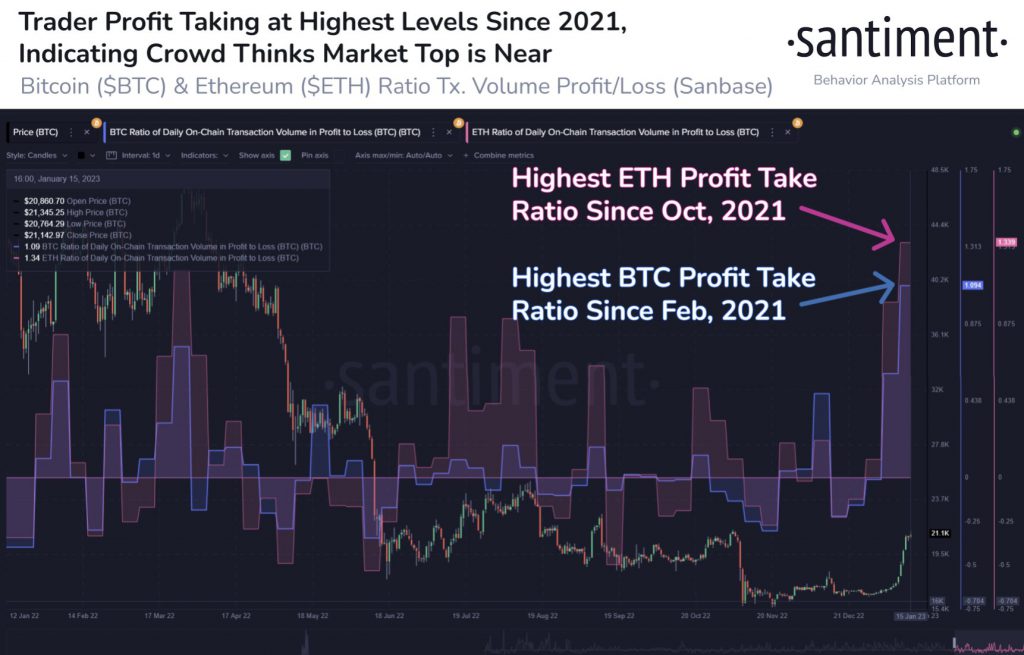 Elaborating on the same, the on-chain analytics firm wrote,
"Are #crypto markets seeing a top? Traders are behaving like they believe so, taking this opportunity to profit take while given the chance."
Additionally, IntoTheBlock noted that 59 percent of Bitcoin's holders were currently making money. Only 38 percent weren't underwater.
But what drove Bitcoin to this level?
Bitcoin's latest pump could be related to an array of factors. Increased whale movement is also one among them. Santiment suggested that this was "a definitive explanation" for BTC's move above $21K.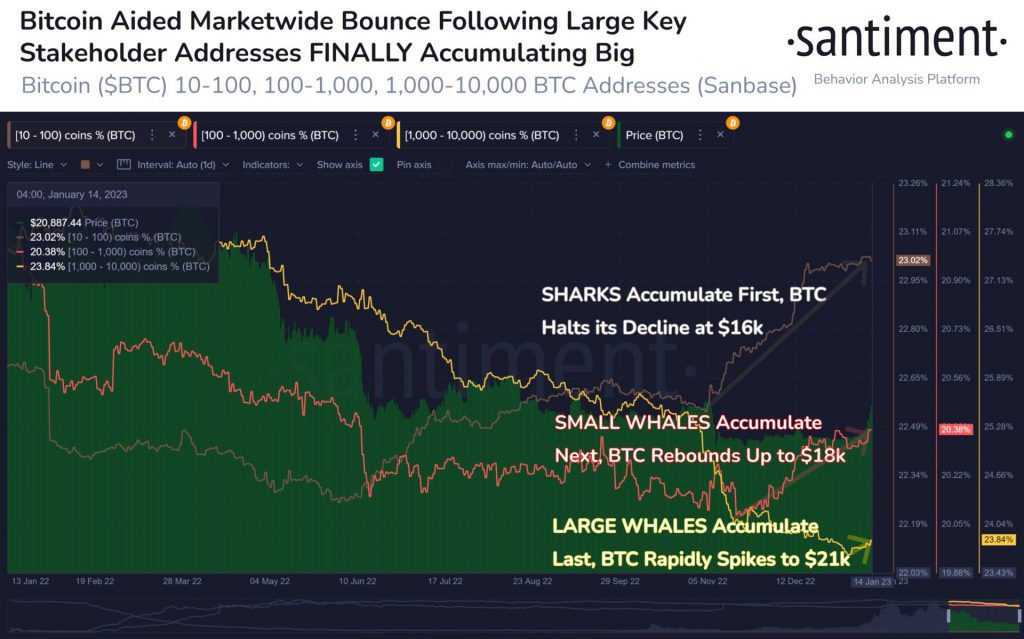 The on-chain analytics platform pointed out that a whopping 105,600 BTC were accumulated by shark addresses in the past 10 weeks. These addresses are the ones holding 10-100 BTC in their wallets.
Moving on to whale addresses, wallets holding 100-1000 BTC pocketed 67,000 Bitcoin over the last 8 weeks. Wallets that already entail 1,000-10,000 BTC had added 37,000 Bitcoin through the previous 10 days.
While the next move of Bitcoin is quite uncertain, these whales and sharks were optimistic about the asset. Alongside these entities, several others like SkyBridge Capital's Anthony Scaramucci labeled 2023 as the "recovery year" for Bitcoin. He even went on to highlight the possibility of BTC hitting $50,000 to $100,000 this year.
This wasn't all. According to Meltem Demirors, chief strategy officer at CoinShares, BTC is expected to trade in a range, between $15,000 and $20,000 on the low end and $25,000 to $30,000 on the high end.