Bitcoin Core Developer Allegedly Loses ~200 BTC: Binance's CZ Responds
Luke Dashjr, one of Bitcoin's original core developers, has allegedly lost more than 200 BTC. The developer claimed that the perpetrators gained access to his Pretty Good Privacy key, leading to the hack.
Basically, PGP is an encryption program that provides cryptographic privacy and authentication. This security method generally uses two keys to gain access to encrypted information. Replying back to one of the comments under the thread, the developer re-asserted,
"Everything is compromised."
Also Read – Bitcoin: Will 2019's Tale Repeat In 2023?
In the thread, Dashjr revealed a wallet address where a part of the stolen BTC was sent. However, he did not disclose how much of his BTC was stolen in total.
Nevertheless, data from Blockchair revealed that 4 transactions took place between 2:08 and 2:16 PM UTC on December 31, 2022. Explicitly, they involved an aggregate of roughly 217 BTC. They were worth approximately $3.6 million at press time.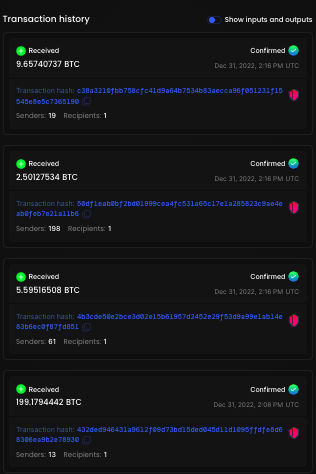 Parallelly, Chinese Journalist Colin Wu confirmed that the hack involved "more than 200 Bitcoins." Furthermore, Wu added, "some of them have been mixed," re-affirming Dashjr's claim that "some of it is coinjoined."
A person from the community asked Dashjr to get in touch with a local law enforcement agency and report the incident. Reverting back to the same, Dashjr said,
"They didn't care."
CZ Informs Binance's Security Team
Binance's CEO Changpeng Zhao was one of the many community members who intervened. Post offering condolences for Dashjr's loss, he said,
"Sorry to see you lose so much. Informed our security team to monitor. If it comes our way, we will freeze it. If there is anything else we can help with, please let us know. We deal with these often, and have Law Enforcement (LE) relationships worldwide."
Additionally, in another tweet, CZ asserted that "self-custody" came with its own different set of inherent risks.
Also Read: Is Bitcoin More Popular Than Andrew Tate?