FTX Token Soars by 30% After Revival News Surfaces
The last few months of 2022 were filled with news of the FTX and its collapse. However, FTX seems to not go away from the headlines, as there are new updates and news about the exchange that surface almost every day.
In one of his first public interviews, the new CEO of FTX, John Ray III, conveyed his belief in reviving the exchange. Following the news, Sam Bankman Fried himself took to his Twitter account to address the same. He also stated that he's waiting for Ray to finally admit that "FTX US is solvent" and "give customers their funds back."
Read more: Order Against Bitzlato Reveals Binance as a Counterparty
As soon as the revival news hit the Internet, the FTX token soared in price. The 24-hour trading volume has also seen a spike.
FTX token soars by 30%
According to CoinMarketCap data, the FTX token is trading at $2.39, with a 31.08% gain in value over the last 24 hours. The token's market cap has also seen a 30.81% hike along with the trading volume, which spiked by 46.60% over the last 24 hours.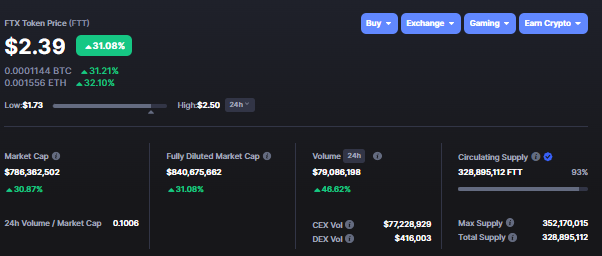 However, the token is 97.19% down from its all-time high on September 9, 2021, of $85. Interestingly, the token is also 189.59% higher than its all-time low on January 1, 2023, which was 19 days ago.
Nevertheless, it is unclear at this moment whether the FTX exchange will have a point of resurrection and whether the users will get their funds back.