Is a "Bigger Breakout" Looming for Bitcoin, Ethereum?
Barring a couple of hiccups, Bitcoin has been swiftly recovering since the beginning of the year. Earlier this week, it broke above the $21,000 mark. Despite the Genesis bankruptcy saga unraveling today, BTC managed to hold ground. With the asset trading in the green on the hourly and the daily, bulls seemed to have a slight upper hand at press time.
Bitcoin managed to script another record quite recently. As shown below, its RSI peaked above 80 for the first time since 2018, flashing a concrete sign of strengthening momentum.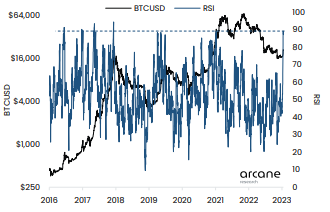 Likewise, even Ethereum has been riding along the bullish wave. Owing to its 10% weekly gain, the largest Altcoin was trading at $1.55k on Friday.
Bitcoin, Ethereum decouple from the market
As highlighted above, both the largest cryptocurrency assets have been sticking to the same directional bias and trading in tandem with each other. However, their movements have been non-aligned with the equity market. The S&P 500, for instance, has dropped by almost 2% over the past 5 trading days.
However, there is a silver lining to the same. According to past precedents, bull markets have mostly begun during periods of weak correlation between both markets. Thus, Bitcoin and Ethereum holding relative to the S&P 500, hint towards a possible correlation break, opening the doors to the recovery narrative.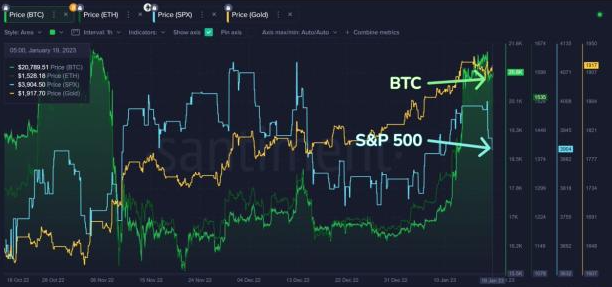 Parallelly, the crowd sentiment has also been refining of late. As illustrated below, the crowd optimism has slowly found its way back and is currently at its highest level since July last year. Chalking out what this could mean, Santiment tweeted,
"Traders are treating Bitcoin's signs of life as a signal that a bigger breakout may be looming soon."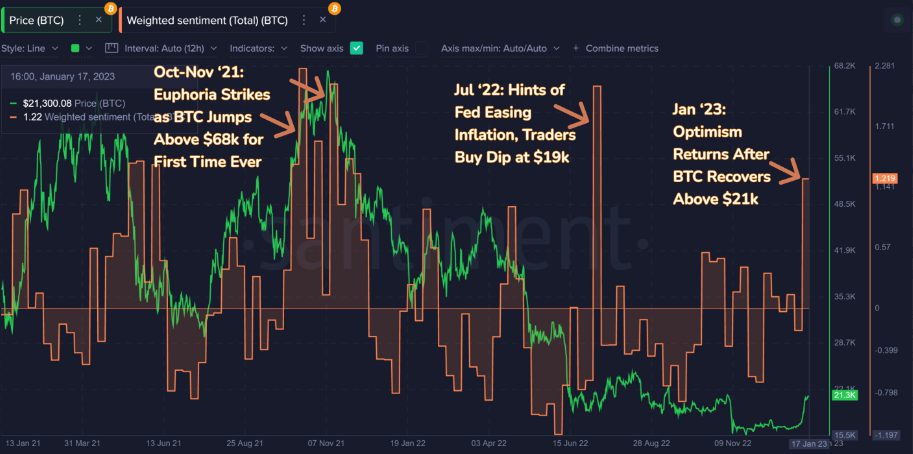 Although, other on-chain metrics did not confirm the said bias. Both Bitcoin and Ethereum's SOPRs have been hovering around 1 [0.99 and 1.01 to be precise.]. In its basic essence, this metric tracks the spending behavior of participants.
Values greater than 1 indicate that on average, more profit is being realized, while readings less than 1 indicate that more losses are being realized. At a value of 1, the market is net neutral. Thus, it would be best for market participants to wait to get the confirmation before jumping back in.