John Richmond takes Shiba Inu to Florence in sporty-chic style
2022 was a great year for Shiba Inu [SHIB]. From several 'partnershibs' to internal developments, the SHIB ecosystem was thriving. Last February, the network veered into the fashion world with John Richmond. Further elevating this collaboration, John Richmond revealed that a new line of sporty-chic outfits will be presented at the Pitti Immagine Uomo event in Florence, Italy.
In a recent tweet, the Shiba Inu clothing partner announced that Richmond X, a brand-new collection will be introduced at the men's fashion event.
From January 10, 2023, to January 13, 2023, Florence, Italy will host the Pitti Immagine Uomo, a men's fashion show. For more than 60 years, Pitti Immagine Uomo has highlighted the city's fashion ethos. This showcase has emerged as a prominent men's trade show in the world, particularly in Italy's top fashion industry.
John Richmond further urged the Shiba Inu Army to be present at the ongoing event.
This is certainly a major boost for Shiba Inu considering the exposure it would get at the event. This isn't the first time that Shib-themed apparel was being showcased at an event of this magnitude. Back in September 2022, the designer took Shiba Inu to Milan Fashion week.
As the community waits for the launch of Shibarium, partnerships, and collaborations like this would help keep the asset afloat.
Shiba Inu bags dainty gains throughout the day
Despite plummeting in terms of ranking and market cap, the price of the asset was faring much better than its counterparts. Over the last 24 hours, SHIB recorded a 3.18 percent daily surge. At press time, the altcoin was trading for $0.000008929.
Earlier today, the meme coin managed to rise to a high of $0.000009593.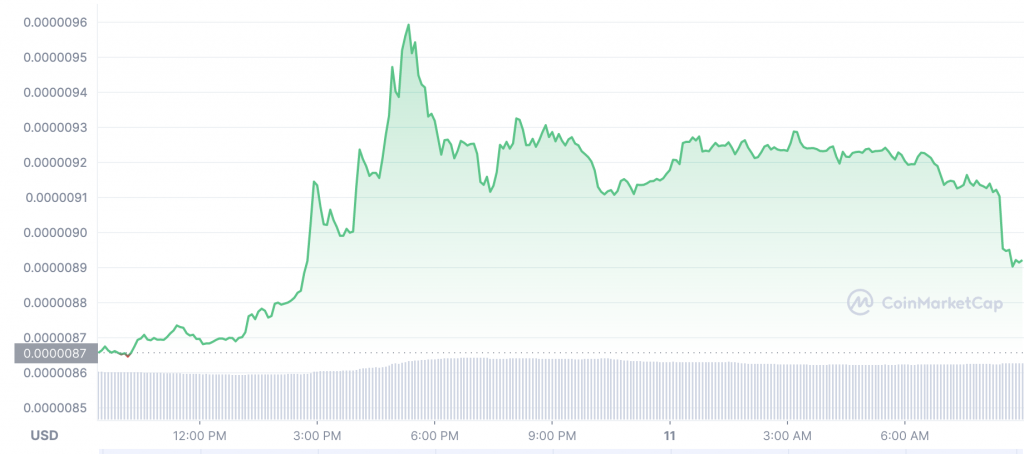 Additionally, the daily trading volume of Shiba Inu also encountered an 18.58 percent boost. The trading volume of the asset was $428,302,847, during publication.