Lido Registers Highest TVL In DeFi: LDO Rallies 15%
Lido Finance's native LDO token is currently the top gainer in the cryptocurrency market. It was up by 15% on the daily and was trading at $1.15 at press time. Retrospectively, the market cap of the 39th-ranked token improved to $943.7 million.

Also Read: DeFi-Related Financial Crime Will Be Assessed: FinCEN Acting Director
Meanwhile, the total DeFi market cap is also recovering on Monday. On the short time frame charts, back-to-back green candles were registered. The aggregate valuation of all DeFi tokens went to hit $31.299 billion earlier today. Post a slight retracement, it stood at $31.22 billion at press time.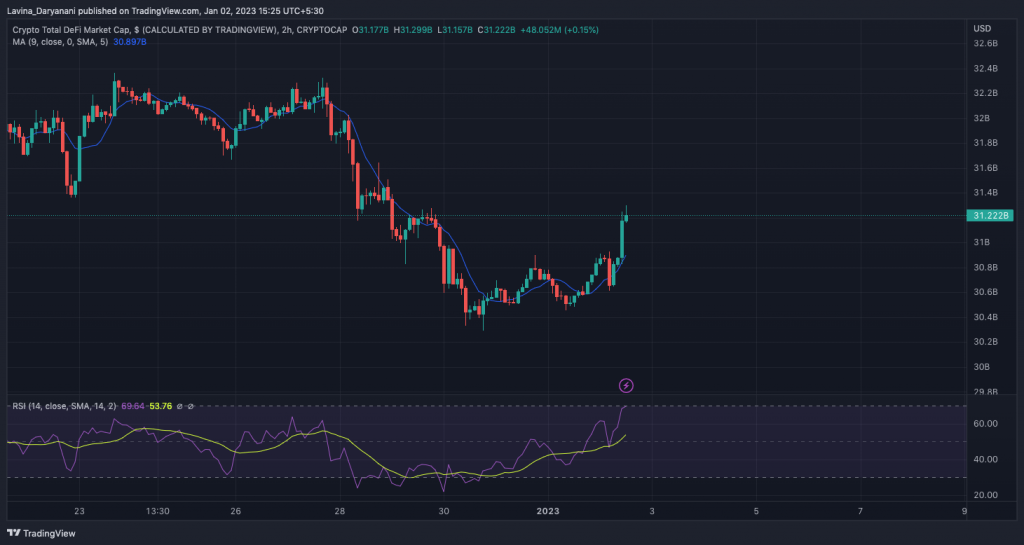 Also Read: Binance's CZ Tweets About Bitcoin "Brain Wallets": What Are They?
The community has been quite excited about the latest feat achieved by Lido Finance. The Total Value Locked on the protocol recently claimed $5.98 billion and overtook Maker. As a result, Lido currently boasts the highest individual TVL in the DeFi ecosystem. As illustrated below, the value of assets locked on Lido rose by almost 2% over the past day.
The TVL on other platforms like Aave, Curve, and Uniswap stood much lower, in the $3.7-$3.3 billion bracket.

Also Read: Block Inc CEO Jack Dorsey Proposes Decentralized 'Twitter'
Liquid Staking on Lido
Lido is a liquid staking solution for Ethereum. It allows users to stake their ETH tokens with no minimum deposits. This means, to stake on Lido's platform, users do not need to essentially have 32 ETH.
With Ethereum's Shanghai update set to happen in March, the narrative for Lido is further building up. EIP 4895 is a part of the said upgrade and will allow Beacon Chain staked Ether withdrawals.
In fact, a recent report from Nansen revealed that the value of staked ETH alone would be the equivalent of a top-six crypto by market cap in its own right. It further added,
"Staked ETH is thus the first yield-bearing instrument to reach significant scale in DeFi, and has the potential to both significantly grow and radically transform the ecosystem in the coming years."
Furthermore, traders are leveraging the staked ETH instrument via different Liquid Staked Derivatives. Notably, more than 5.7M of ETH has been staked via LSD platforms like Lido and Rocket Pool. Nansen noted that the pace of adoption has only "gathered steam" after The Merge and there was "meaningful participation" by holders.
Read More: Ethereum: Total Value in ETH 2.0 Claims New ATH of 15.6M Tokens