MATIC whales make big moves into Binance amidst 7% daily rise
With the cryptocurrency market trading for much lower than its yearly highs, whales in the market were active. These whales were pocketing an increased number of assets at discounted prices. Similarly, the native token of Polygon blockchain, MATIC, was observed to be traded by whales.
As per data curated by Lookonchain, 9 million MATIC tokens worth about $8 million were moved to Binance by an unidentified large-scale holder. This particular whale isn't new to the business. The whale has been on an accumulation spree throughout the last couple of months. With a total of 153.4 million MATIC and an average buying price of $1.16, the whale has been pocketing the asset from exchanges and staking it.
This whale is a consistent visitor to Binance. According to Lookonchain, 15 million MATIC were transferred to Binance back in October 2022. In addition to this, 58 million MATIC were sent to Binance from Nov 18 to Nov 27. These transactions were made with an average transfer price of $0.86.
Currently, the aforementioned whale holds 27.5 million MATIC worth $23.4 million in their wallet. Additionally, 73.1 million MATIC worth $62.2 million is currently being staked.
These actions further led to the community believing in the possible rise in the price of MATIC.
Can MATIC hit $3 this year?
About a year ago, Polygon's native asset hit an all-time high of $2.92. Similar to its counterparts, the asset dropped down and is currently trading at $0.862. Even though the asset remains 70% below its all-time high, the crowd seems optimistic about the asset.
On the developmental front, Polygon has been partnering with an array of prominent platforms. Just yesterday, the network's collaboration with MasterCard was brought to light.
As seen in the below image, the social strength of Polygon has been up over the last three months.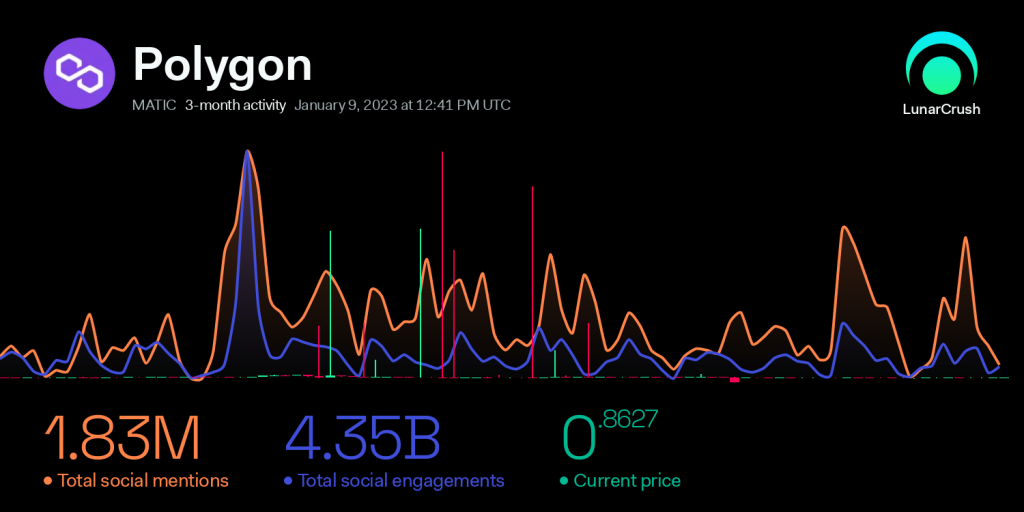 Additionally, MATIC's daily price rise is currently at 7.66%. The chances of MATIC moving beyond its ATH and hitting $3 could be high if it persists in its current trajectory.