Shiba Inu Burn Rate Plummets by 70%, Will it Resume its Burn Streak?
The Shiba Inu burn rate plummeted by 73.08% today. The burn rate, which was skyrocketing with millions sent to dead wallets, seems to have cooled down now. At press time, according to the details from Shibburn, only 1,615,330 SHIB have been sent to dead wallets.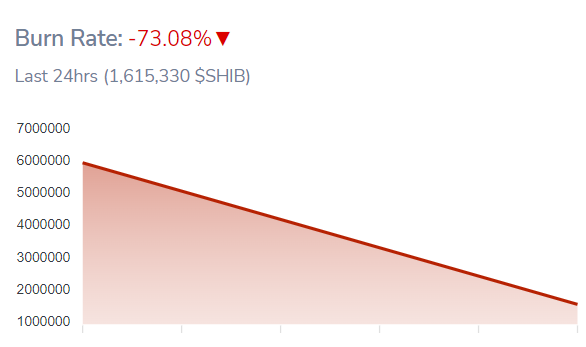 This is a notable drop in burn rate, as opposed to the burn volume of the past seven days. Details from Shibburn denote that in the last seven days, 516,462,035 SHIB has been sent to dead wallets throughout 53 transactions.
But with a sizeable drop in burn rate today, will there be a similar soaring burn week? Or was it just the enthusiasm for the new year? Let us find out.
Shiba Inu's unpredictable burn streak
2022 has been one of the best years for Shiba Inu in terms of developments. The fluctuating price and volatility have been an aftermath of the prolonged bear market. Perhaps the burn rate has also been fluctuating quite notably throughout the year.
The burn rate started off high in 2023 but witnessed dropping burn rates recently across two days, including today. It is quite impossible to predict the exact movement of the burn rate. It is greatly dependent on the combined efforts of the community.
In one of the recent updates, the Shibarium team confirmed that it will burn SHIB after the launch. The burn rate can visibly stabilize and even rise after the launch. However, until that point, the community should brace itself for fluctuating burn rates.