Shiba Inu Burn Rate Spikes by 350%, Breaks the Silence
Shiba Inu burn has been one of the crucial developments by the meme coin team. The community has also welcomed the initiative with open arms, with millions being sent to dead wallets.
The burn initiative was developed to reduce the SHIB in the circulating supply and induce scarcity. The burn rate has been considerably higher for the initial few days of January 2023. However, it slowly started to cool down as the price started picking up speed with double-digit gains.
Read more: Gemini Plans to Lay Off 10% Staff, Cites Bad Crypto Industry Actors
Nevertheless, according to the latest details from Shibburn, the Shiba Inu burn rate has spiked by 352% over the last 24 hours.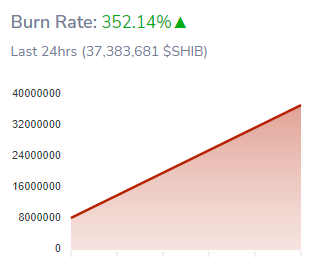 Shiba Inu burn rate soars by 352%
The burn rate, which was on the lower side for quite some days, has reversed course and is up by 352% over the last 24 hours. 37.3 million SHIB has been sent to dead wallets during this period. Two large transactions, one involving 10.1 million SHIB and the other 9.6 million SHIB, were the highest recorded during the period. The burn game is expected to ramp up once Shibarium is launched. Shibarium could also help push SHIB's price higher.

SHIB is trading at $0.00001207 at press time, with a 1.4% drop in value over the last 24 hours. However, SHIB is up by 13.8% over the last seven days.