XRP Starts Off 2023 With A 11% 'Bang'
The onset of 2023 did not change the state of the crypto market. Most coins traded horizontally on New Year. On January 2, however, top assets started noting slight recoveries. The total crypto market cap was up by 1.11% to $802.77 billion on Monday.
Yet, the tale was slightly different for XRP. The asset noted an 11% decline by registering a long red wick within a minute. From a price of $0.3368, XRP's valuation dropped to $0.3000. Commenting on the dip, Tom Crown, Founder, and CEO of CrownAnalysis tweeted,
"XRP starting 2023 with a bang."
At press time, nonetheless, the asset was seen recovering. It was tested by its MA at $0.3318 and successfully managed to climb past it. The $16.9 billion worth market-capped asset was seen exchanging hands around $0.3320 while writing.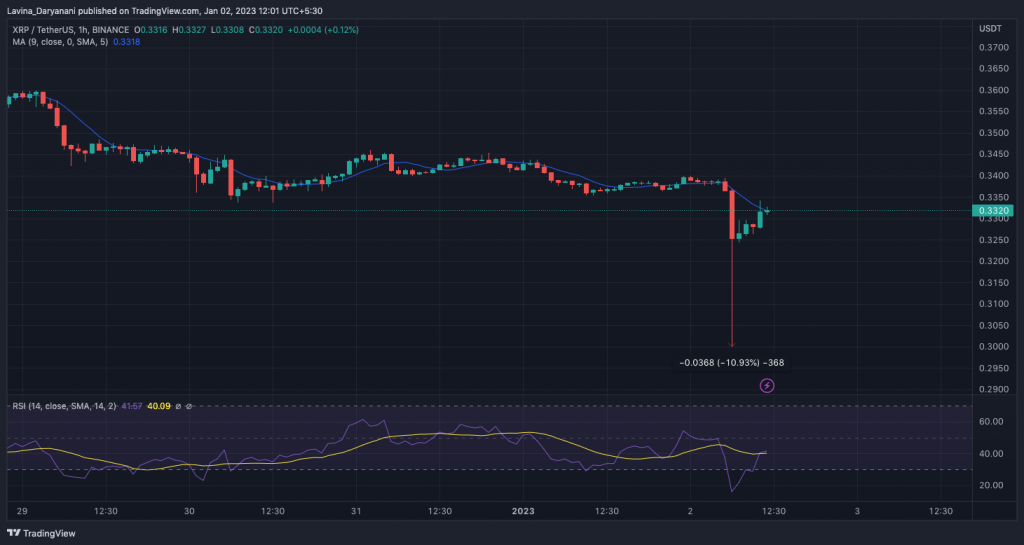 Also Read – Ripple: Is XRP 'The Most Useless' Pump And Dump Scheme?
People from the community pointed out that the XRP perhaps stooped down to the aforementioned level to collect liquidity. If such is indeed the case, then a trend reversal could likely be initiated.
Also Read: Ethereum, Ripple Are Committing Securities Fraud: Michael Saylor
XRP: What Is Technical Analysis Indicating?
Technicals painted a bullish outlook at press time. Firstly, the short-term moving average [50 MA] recently overtook the long-term moving average [200 MA] giving rise to a golden cross. Conventionally, this crossover indicates the potential for a rally to materialize.
Furthermore, a couple of bullish divergences were registered by XRP's technical indicators. As shown below, a lower low created by the price has been accompanied by higher lows by indicators like the RSI and OBV. The highlighted movement in opposite directions by the price and the indicators point that a price reversal could indeed be in the making for XRP.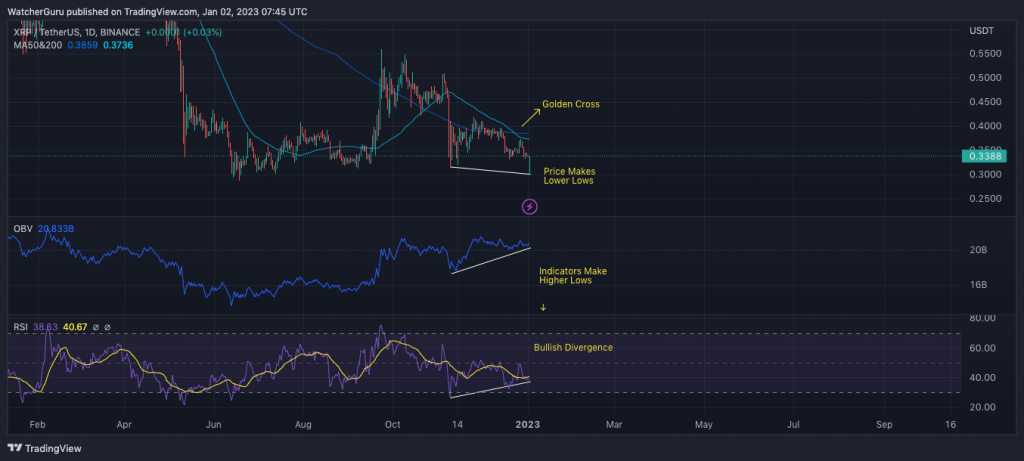 Also Read: Bitcoin, Ethereum, XRP, Cardano: Which Crypto Ranks No.1 in 2022?