$67 Ethereum Investment in 2015 Now Worth $100K+
Like most assets from the cryptocurrency market, even Ethereum has been correcting lately. The largest altcoin lost more than 8% of its value over the past week and was seen exchanging hands at $1514 at press time. Parallelly, even the total cryptocurrency market cap was hovering at the brink of $1 trillion on Tuesday.
Despite the latest downtrend, long-term investors, especially the ones who bought assets a few yers back, are in quite a comfortable position. Recently, Whale Alert brought to light the activation of an ancient Ethereum wallet.
According to on-chain data, a dormant address containing 100 ETH, worth roughly $150k, was activated on Tuesday. The wallet remained inactive for a period of 7.5 years. Like pointed out by Whale Alert, the said investment of 100 Ether tokens were cumulatively worth only $67 in 2015.
Also Read – Visa Is 'Testing' Stablecoin Payments on Ethereum
Sentiment check
Despite the wobbly price landscape, Ethereum investor sentiment does not necessarily seem to be dented. Data from Glassnode revealed that number of addresses sending ETH to exchanges just reached a one month low on Tuesday.
Usually, a rise in the said metric points towards the selling behavior. Contrarily, a drop indicates that market participants are refraining from parting ways with their holdings. Thus, the ongoing downtrend is an encouraging sign.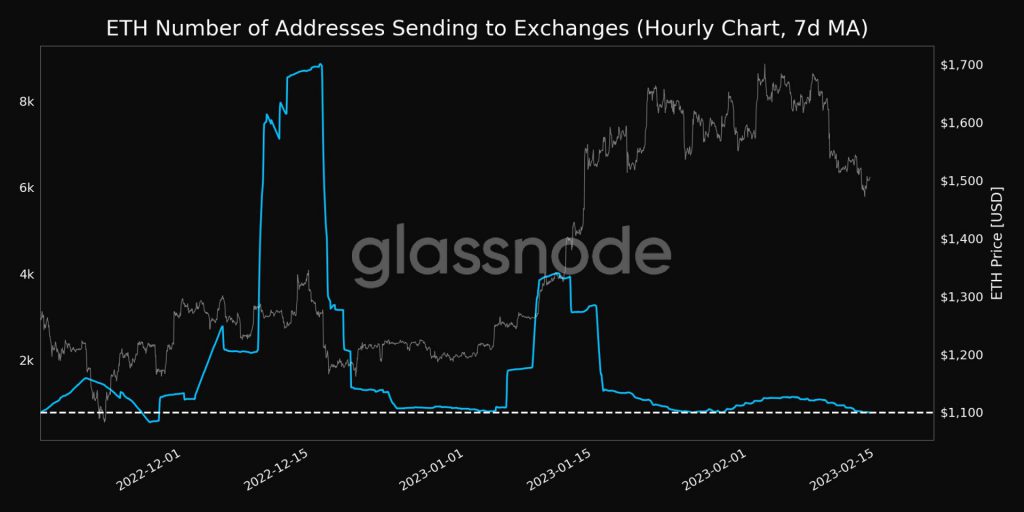 With the selling pressure seemingly extinguished now, market participants seem to be accumulating ETH. According to on chain data, addresses holding more than 10k tokens just reached a one month high of 1214, affirming the same. Parallelly, even retail participants have been inflating their holdings. Glassnode pointed out that the number of addresses possessing more than 0.01 ETH attained a six month high of 22,925,424 today.
So, if the said trends continue in the same direction, Ethereum will likely be able to make up for its recent short-term losses and continue inclining.
Also Read – Ethereum: How To Prepare For Staking Withdrawal